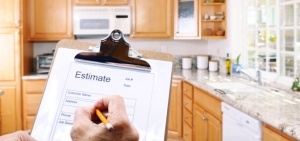 Looking for a professional company to provide a free survey following damage to your property? IC Assist can help. Choosing the right company to assess the damage is really important. Especially if you've had a leak, burst pipe, flood or fire. As if you don't start drying or repairing the water damage promptly, secondary damage can occur to the fabric of the building. This is usually areas that you can't see. For example, this could be above your ceiling, behind your walls or underneath your floor coverings (laminate, vinyl, tiles, carpet etc).
Most tradesmen overlook this as they are only trained in one trade i.e. plastering, decorating, tiling, flooring etc. They don't want to deal with water trapped in building materials such as joists, timber/concrete floors, plaster etc.
IC Assist however, specialise in insurance claims and have been surveying, drying and repairing water damaged properties for over 9 years. So, we will ensure you get a professional assessment of the damage.
IC Assist survey all types of property claims:
Water damage repairs to ceilings, walls or floors – after an escape of water from a burst/leaking pipe or appliance.
Flood damage – due to water level rising outside and entering a property.
Accidental damage – water overflowing from a sink or bath. Accidentally drilling into a pipe. Or spilling a whole bucket of water.
Malicious/criminal damage – significant property damage caused by tenants/criminals.
Fire damage – soot and odour removal and complete building refurbishment.
Storm damage repairs  – boundary walls being blown over. Or roof tiles slipping or blowing off causing water to enter your property.
Impact damage  – car accidents that cause damage to your property or boundary wall.
We can also assess all types of damaged building materials:
We have a specialist team to deal with all types of repairs. So, there's no need for you to get multiple quotes from several different companies. Thanks to our diverse team of tradesmen that we have built up over nearly a decade, we offer a wide range of building services. This ensures we can assist with many different types of property claims. From minor damage to ceilings, walls and floors to complete bathroom and kitchen re-fits. Therefore, no matter how big or small the damage is, IC Assist can help!
Why it's important to have a professional survey carried out.
Here's one example of what can get overlooked if you don't choose a professional company to survey your property damage. IC Assist were called in to do a water damage assessment following a leak from the flat above. We were told that the kitchen ceiling and bedroom wall were both damaged. The recommendation of the Loss Adjuster and several other contractors who surveyed the damage before we attended, was to stain block and paint. Our surveyor on the other hand knew from experience that stain blocking was completely inappropriate.
Thankfully the customer called IC Assist. As after removing a few kitchen plinths, it was clear to our surveyor that there was a significant amount of damage to the kitchen wall too. Further investigation revealed that the multiple layers of plasterboard and insulation on the walls and ceiling were soaking wet and covered with mould.
But, it was the significant damage to the timber structure of the building that was most concerning! As the wooden ceiling and floor plates also needed replacing. However, in order to do this, the external walls of the building (brick and block work) had to be removed and renewed. This is an example of a claim that could have gone drastically wrong, if it hadn't been professionally assessed. You can see some pictures of the water damage strip out work on our Facebook page.
Be aware of insurance companies offering cash settlements without surveying the damage.
In order to cut costs, some insurers aren't sending anyone out to survey damaged properties. In stead, they are asking their customers to send them photographs. They will then use these images as the basis for their settlement offer. Ultimately, they are making their customers do more work, so that they can review and authorise claims without having to leave their office!
If your insurer has asked you to do this, we advise you to give us a call to book a free survey of your property. Since IC Assist work for YOU not your insurer, we'll ensure they don't miss any necessary repairs. We will also manage your claim to prevent your insurer trying to offer you an inadequate settlement.
Your insurer has professionals representing them and you should too! We manage everything on your behalf at no cost.

As insurance specialists, we've helped so many people make successful property claims. As a result of our involvement, knowledge and negotiating skills, we've prevented several insurers/Loss Adjusters from giving unfair settlements. These were settlement offers that weren't sufficient to cover all necessary repairs! If you choose IC Assist to manage your claim, we will ensure your insurer handles your claim fairly. We will also repair your property in line with your cover. We pride ourselves on delivering a professional, tailored service to our customers at all times.
To get your FREE survey and professional assessment of the damage to your property call 0800 4337 290.