If you're claiming for a water damage repair to your property, IC Assist provide a professional restoration service. As water damage specialists, we're here to help if your home has been damaged by a leak, burst pipe or flood. We provide a comprehensive property repair and drying service. But we also have state of the art Dri-Eaz air movers and dehumidifiers to dry your property. So we can help with anything from a minor leak to a flood that has damaged every room!
When making an insurance claim for water damage, it's important to get professional assistance from a company like IC Assist. This ensures you get a service tailored to you. It also gives you peace of mind that the most appropriate restoration technique will be applied. Using an experienced restorer will also minimise any disruption and prevent any unnecessary problems occurring later on down the line.
FREE water damage survey to establish what repairs are necessary.

As part of our FREE claims management service, you will get a FREE no-obligation survey of the damage to your building. During the survey, we'll ask some questions to determine what remedial action our contractors will need to take. Such as; the source of the leak, what areas were damaged and how long ago the incident occurred. As soon as you appoint IC Assist to manage your claim, we will:
✓ carry out a detailed assessment to establish the full extent of the repairs
✓ take meter readings to ascertain how saturated the affected areas are
✓ take photographs and measurements in order to produce a detailed schedule of works
✓ explain what action is required to restore your property
✓ forward a detailed quote for the remedial work direct to your insurance company
Why choose a water damage restoration specialist instead of a general contractor?

When claiming for a water damage repair to your home, it's normal for your insurer to ask you to get a couple of estimates. However, getting a water damage estimate from a general contractor isn't wise. This is because the majority of contractors aren't trained to dry and restore water damaged properties. So they may be an expert in their trade, but they don't have the knowledge or equipment to deal with water damaged buildings.
Choosing an inexperienced contractor can lead to big problems. As if they don't ensure the structure is adequately dry before re-decorating, mould spores may develop and spread in future. If this happens, it could cost thousands of pounds to rectify any damage as a result! This is a cost that your insurer would not cover. However, if you choose IC Assist there's no need to worry. We will check and monitor moisture levels to make sure they are suitable before any redecoration begins. You will also benefit from our wealth of experience in presenting successful water damage insurance claims.
IC Assist can manage any water damage claim: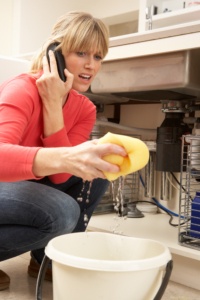 ✓ Frozen and burst pipes
✓ Leaks from pipes or radiators
✓ Overflowing water tank, sink or bath
✓ Leaking shower, bath trap, or waste
✓ Boiler bursting or exploding
✓ Toilets overflowing due to a sewer back up or clogging
✓ Cracked washing machine or dishwasher hose
We can help with any water damage repair:

✓ Ceilings and walls – plasterboard, plaster, Artex, lath and plaster.
✓ Bathrooms & en suites – from a minor fix to a complete refurbishment.
✓ Kitchens – replacement units doors and worktops or a complete refurbishment.
✓ Flooring – laminate, engineered, solid wood, parquet, vinyl, luxury vinyl tile.
✓ Sub floors – concrete, chipboard, plywood, floorboards.
✓ Floor & wall tiles – ceramic, porcelain, mosaic, natural stone.
✓ Joists – treatment or replacement.
✓ Drying & sanitising water damaged building materials – concrete sub floors, plaster, brick & block work etc
Water damage repairs are the most common type of claim we manage.
Water damage is one of the most common reasons home owners claim on their insurance. We've been helping policyholders make successful claims since 2011 and have many satisfied clients. The work has varied from minor plastering and decorating, to refurbishing every room entire properties with substantial water damage. So, if you need some professional advice when dealing with repairs to your water damaged home, just give IC Assist a call.
Please take a look through our albums on Facebook, where you can see pictures of escape of water refurbishments we've managed. You can also see our customer online reviews and feedback forms that we've received over the years.
We provide a comprehensive water damage repair and drying service.



IC Assist provide a complete range of building services designed to take care everything required to return your property to its pre-loss condition. After our initial visit, we'll meet with your insurer or their Loss Adjuster to agree any necessary strip out.
Once we receive their approval to proceed, our contractors will remove any building materials that are ruined or beyond economical repair. We do this before starting the  drying process to reduce drying time, allowing repairs to start sooner.
After the wet materials are removed, we can then target dry the surface beneath. Our Dri-Eaz air movers and LGR dehumidifiers will then remove any remaining moisture. As soon as the fabric of your building reaches its per-incident dryness, our specialist contractors will then begin the reinstatement work.
How long does it take to dry out water damaged walls and floors?
Ultimately, this depends on how saturated the sub-surfaces are. On average, small leaks can take approximately two weeks to reach an acceptable dryness. However, a burst pipe or flood that has soaked the underlying concrete structure, can take a minimum of one month. In these circumstances, we'll take weekly meter readings to ensure our equipment is being use to its best effect.
When dealing with water damaged properties, we also rely on other essential tools such as our Protimeter and Tramex. Initially they determine how far the water has tracked and how much has been absorbed. This helps us determine what can be dried and what will need to be renewed. This equipment is also used throughout the drying process to check that the moisture levels are declining as they should be.
The full extent of water damage isn't always visible. There may be problems underneath the surface.
Establishing the full extent of destruction caused after an escape of water isn't as easy as you think. This is because it can hide behind walls, floors and ceilings. When moisture can't evaporate it will remain trapped and build up. This means that there can be a considerable amount of unseen damage. If you do not address this properly it can affect the underlying structure of your building.
Porous materials like plasterboard, insulation, flooring and wood easily absorb moisture. Consequently, floorboards and skirting can swell and warp, wooden floors can buckle and tiles and wallpaper can de-bond. As it travels beneath the surface it pools and saturates things you can't see. Such as insulation, concrete, joists and the underside of plasterboard. Therefore, the scale of refurbishment will depend on a number of things. From how much water escaped, to how far it tracked and what it damaged along the way.
Act quickly to prevent moldy plasterboard and rotten joists.

If you don't take action promptly after discovering a leak, rot and fungus will grow and spread. Quite often, customers think that only a minor fix is necessary following an escape of water. However, they get a shock when we lift their damaged ceiling or flooring and they see what's hiding underneath.
The picture shows extensive mold growth uncovered whilst carrying out a bathroom floor repair. We were called in to help after a leaking push fit ruined the floor tiles, floorboards and kitchen ceiling below. Once we lifted the tiles and sub-floor, the full extent of the damage could then be seen. As you can see, the joists are wet and fungus is growing all over the underside of the ceiling plasterboard.
Our specialist team deals with this type of destruction all the time. Rectifying this type of damage usually involves removing all the sanitary wear in the bathroom/en-suite. This allows us to replace the saturated sub-floor and assess any issues hiding underneath. Where joists aren't weakened, we'll dry and treat them before laying a new sub-floor ready for the new floor covering. However, if the beams are no longer structurally safe, our contractors will replace them. On these types of claims, there is normally damage to the ceiling in the room(s) below. In this instance, our plasterer will cut out and renew any contaminated plasterboard before re-plastering the entire ceiling.
Is property damage caused by a water leak covered by your home insurance?

If you've had a leak and are unsure if the repair costs will be covered by your insurance, just give us a call. As, although most standard buildings insurance policies provide cover for sudden or accidental water damage, they do not cover all types.
Most polices exclude damage caused by ware and tare and damage that occurred gradually. This means that your claim may be denied if the damage occurred slowly over a long period of time. However, this is where our experience is crucial. As we have overturned many claims initially denied for damage that occurred gradually. A lot of claims are also declined due to poor maintenance. This can include failed silicone or grout in shower enclosures or around baths. As a result, homeowners can end up having to cover the restoration costs.
Not all policies are the same. We will check your policy wording to determine if you are covered.

Every policy is different and the circumstances leading to the loss will be unique. That's why each claim must be assessed individuality to determine if it should be approved. Not only that, but there are exceptions in some polices. For instance, we have come across policies that do not specifically exclude silicone failure. In fact, we were recently called in to help after sealant failed in a shower enclosure. Initially, the Loss Adjuster was looking to decline the claim. However, having checked the customers policy wording, we challenged his decision as there was no specific exclusion for silicone failure. As a result, he authorised the repairs and covered the cost to re-decorate his lounge and en-suite.
Important things you should know when making a water damage insurance claim.
When claiming for a water damage repair, finding and stopping the leakage is a matter of urgency. This is because, under the terms of your policy, you have a duty to mitigate your claim. Once you stop the water escaping, you also need to prevent unnecessary damage, such as rotten joists or moldy plasterboard. To avoid this, the strip out and drying process should begin as soon as possible. But don't worry this is something IC Assist can take care of. Where appropriate, we can install our dehumidifiers and industrial fans straight away. This will prevent rot and fungi developing and allows the repair process to begin sooner. This is why it's vital to choose a company that specialises in restoring properties affected by water.
To get assistance with your water damage repairs call

0800 4337 290