Claiming on your insurance for a water damage repair to your property? IC Assist provide a professional drying and restoration service. As water damage insurance repair specialists, we're here to take away the stress of making an escape of water or flood damage claim. We not only provide a comprehensive property reinstatement service. But, we also have state of the art drying equipment to dry your property to industry standards. So, we can help with anything from a small leak to major restoration and drying after a flood or fire.
When claiming for damage caused by a leak, burst pipe or flooding, it's vital to get assistance from a water damage specialist like IC Assist. As using a restorer with the right experience and expertise will ensure the most appropriate restoration technique is used. This will minimise disruption and prevent unnecessary problems occurring in future.
Book a FREE water damage assessment to establish exactly what repairs are necessary.

As part of our free claims management service, you'll get a comprehensive assessment of the damage to your building. During the initial survey, our water damage assessor will ask some questions to determine what action will be required. For instance; the source of the leak, what rooms/areas are damaged and when the incident occurred.
When you choose IC Assist to manage your claim we will:
carry out a detailed assessment to establish the full extent of the damage.
check moisture levels to establish how wet building materials are.
take photographs and precise measurements to document the affected areas.
explain what action is necessary to restore your property.
produce a detailed schedule of works.
forward a professional water damage repair quote to your insurance company.
Getting your property assessed by a professional is the first and most important step. As you will be amazed at just how far water can track and how much hidden damage it can cause. Want to see just how bad the destruction can be or what's involved in repairing extensive water damage? Have a look at this case study where we restored an entire flat damaged by a slow, hidden leak from a bath.
IC Assist can help with any type of water damage insurance claim.
Escape of water claims come in all shapes and sizes and each one is unique. That's why we tailor our service to your specific circumstances. The most common causes of water damage are due to: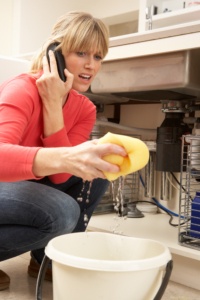 Frozen and burst pipes.
Leaks from flexi/copper/plastic pipes, thermostatic mixer showers, boilers, radiator etc.
Escape of water from corroded copper pipework or push fit plumbing disconnecting.
Leak from a sink, basin or bath trap/waste.
Water overflowing from a water tank, sink or bath.
Soil stack leaks in flats and apartment blocks.
Hidden and concealed leaks behind tiles, boxing in and bath panels.
Leaking under floor heating systems or pipes bursting underneath a concrete floor etc.
Boiler bursting or exploding.
Toilets overflowing due to a sewer back up or clogging.
Failed or cracked hose on a washing machine or dishwasher.
Water damage as a result of extinguishing a fire.
Accidental damage – dropping a bucket of water, leaving a tap on, or drilling into a pipe etc.
Third party claims – e.g. damage caused by a plumber forgetting to refit radiator bleed nipples before pressurising central heating system.
We provide a wide range of water damage repair services:

Bathrooms, en suites & wet rooms – minor repairs or entire refurbishment.
Kitchens – complete kitchen renewal or replacement units, doors and worktops.
Flooring – laminate, engineered, solid wood, parquet, vinyl, LVT, or carpets.
Sub floors – water damaged floorboards, chipboard or plywood.
Floor & wall tiles – ceramic, porcelain, mosaic or natural stone.
Joist damage – treatment or replacement.
Drying – wet concrete floors, joists, wall & ceiling voids.
Sanitising – after a flood, toilet overflowing or sewage back up from drains.
Asbestos sampling, testing & removal – found in Artex coatings, Marley/vinyl composition tiles and bitumen adhesive.
Structural repairs – water damage that's affected the structural safety of the building.
Leak detection service – we use non invasive equipment to find hidden leaks behind walls, floors and ceilings.
Trace and access claims – get assistance claiming for the cost of; finding the source of the leak, exposing it and repairing any damage caused during the process. (Where you have 'trace and access' cover included on your policy).
Why choose a water damage restoration specialist instead of a general contractor?

When claiming for property damage, it's normal for your insurer to ask you to get a couple of estimates for the repairs. However, getting a quote for restoring water damage from a general contractor isn't wise. This is because the majority of contractors aren't trained to dry and restore water damaged properties. So, although they may be an expert in their trade (plastering, decorating etc), they don't have the knowledge or equipment to deal with all aspects a water damage claim.
Choosing an inexperienced contractor can lead to big problems.
As, if they don't ensure the structure is adequately dry before redecorating, mould spores may develop and spread in future. If this happens, it could cost thousands of pounds to rectify any damage as a result! This is a cost that your insurance company will not cover. However, if you choose IC Assist there's no need to worry. Not only will you benefit from our decade of experience in presenting successful claims. But you can be assured that we'll dry your property to industry standards before starting any reinstatement work. Drying is the most important part in preparing a property for re-plastering, decorating, tiling or laying new flooring. So, that's why our first priority is to assess your walls/floors/ceiling voids to identify any building materials with excess moisture.
Water damage repairs are the most common type of claim we manage.
An escape of water is one of the most common reasons home owners claim on their buildings insurance. We've been helping policyholders make successful claims since 2011 and have many satisfied clients. The reinstatement work varies from minor plastering and decorating, to refurbishing entire properties requiring substantial water damage restoration. So, if you need some advice, please just give IC Assist a call.
Feel free to take a look through any of our 35 albums on Facebook showing water damage repair claims we've managed. You can also see our customer reviews and feedback forms.
Get a comprehensive property drying and restoration service with IC Assist.
We provide a wide range of building services which take care of everything required to return your home to its pre-loss condition. After our initial visit, we'll meet your insurer or their Loss Adjuster to agree the strip out, drying and reinstatement work. Once we receive their approval, our contractors will firstly remove any materials that we are unable to restore or are beyond economical repair. Then, where applicable, they will sanitise any building materials that we can dry i.e concrete. (This is done before starting the drying process, as it reduces drying time and allows repairs to start sooner.)
At this stage, we'll install our industrial strength Dri-Eaz LGR dehumidifiers and air movers. They will remove any remaining moisture from wet concrete floors, walls and cavities etc. As soon as the fabric of the building reaches its pre-loss dryness, our contractors will then restore your property.
Insurance companies can sometimes take their time authorising the initial strip out work. But don't worry, we can install dehumidifiers whilst awaiting authorisation. This will help to stabilise the humidity levels and prevent mold growing in the affected rooms. (Insurers are happy to cover these costs, as you are preventing secondary damage and mitigating your claim).
How long does it take to dry out wet walls and floors?
Ultimately, this depends on how much moisture is in the building materials. On average, small leaks can take approximately two weeks to reach an acceptable dryness. However, a burst pipe or flood that has soaked the underlying concrete structure, can take a minimum of one month. In these circumstances, we'll take weekly meter readings to ensure our equipment is being use to its best effect.
When is sanitising necessary?
Here are some examples of the different types of claims that can require sanitising, as part of the water damage repair and restoration process:
an escape of water that occurred over 72 hours ago –

this is classed as 'grey water', as bacterial and pathogens can grow in this time.

leaks from waste pipes and outlets –

from a toilet, sink, bath, washing machine or dishwasher etc.

sewage contamination –

toilets can overflow due to pressure in the internal sewage system caused by a backup of waste. External drains and waste systems can also malfunction and overflow, causing water to enter properties.

ingress of substantial volumes of water due to flooding –

this is classed as 'black water' contamination. Flood water is particularly harmful because it could contain pathogens and chemicals.
The full extent of water damage isn't always visible. There may be problems hiding under the surface.
Establishing the full extent of destruction after an escape of water isn't as easy as you think. That's because water can hide behind walls, floors and ceilings. When moisture can't evaporate, it will build up. This means there can be a considerable amount of unseen damage. If you don't address this properly, it can affect the structure of your building.
Porous materials like plasterboard, insulation, flooring and wood, absorb water easily. Consequently, floorboards and skirting can swell and warp. Wooden floors can buckle and tiles and wallpaper can de-bond. As it travels beneath the surface, it saturates things you can't see. Such as insulation, concrete, joists and the underside of plasterboard.
The scale of the repairs therefore depends on:
The amount of water that's been leaking.
Where the water tracked – i.e the number of rooms/areas affected.
What building materials are damaged.
How long the water has been escaping – i.e. a slow, hidden escape of water or a minor leak that was fixed promptly.
Our equipment detects excess moisture during our initial survey and monitors levels throughout the drying process.
When dealing with water damaged buildings, we rely on essential tools. One tool we regularly use  is a Protimeter. This is a non invasive way of finding moisture beneath the surface. It is not only perfect for detecting water trapped under flooring. But, it's also highlights hidden damage in ceilings and walls. As we can use it on all types of other building materials too such as; plaster, plasterboard, skirting etc. Our surveyor also uses a Tramex. This is another vital tool we use to measure the moisture content in concrete floors. (As although the surface of concrete can look dry, water can be trapped in the middle of the concrete slab).
Both of these tools help us establish how far the water has travelled and how much has been absorbed. This then helps determine what we can dry and repair and what building materials we'll renew. We use this equipment throughout the drying process to check moisture levels are declining as they should be.
Act quickly to prevent mouldy plasterboard and rotten joists.

If you don't take action promptly after discovering a leak, rot and fungus will grow and spread. Quite often, customers think that only a minor fix is necessary after an escape of water. However, they get a shock when we remove their damaged ceiling or flooring and they see what's actually hiding underneath!
Extensive mould uncovered during removal of a water damaged bathroom floor.
The picture shows significant damage to the underside of a kitchen ceiling. IC Assist were called in to help after a leaking push fit ruined the bathroom floor tiles, floorboards and kitchen ceiling below.
Once our contractors lifted the tiles and sub-floor, the full extent of the damage could be seen. As you can see, the joists were wet and fungus was growing all over the underside of the ceiling plasterboard.
What repair work is necessary to restore water damage to a bathroom, en suite or wet room?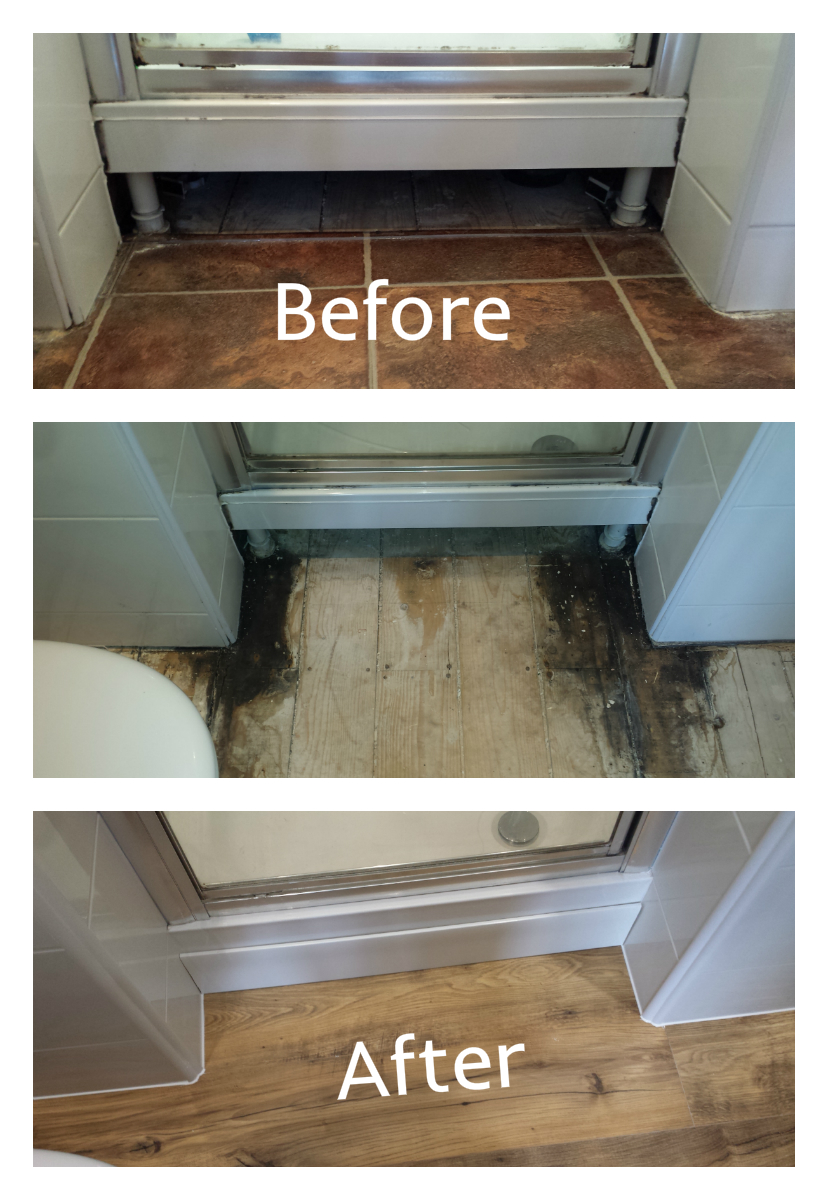 When repairing or replacing a bathroom subfloor, it is often necessary to remove the sanitary wear. For instance; a basin, toilet, bath, or shower tray and enclosure. Doing this, allows us to professionally renew the wet sub-floor and assess any issues hiding underneath. Such as wet or rotten floorboards (as shown in these before and after photos of an en suite repair claim).
Where joists aren't weakened, we'll dry and treat them before building a new sub-floor in preparation for laying the new flooring. However, if the beams are no longer structurally safe, our contractors will replace them. On these types of claims, there is normally damage to the ceiling in the room(s) below. In this instance, our plasterer will cut out and renew any contaminated plasterboard before re-plastering the entire ceiling.
Would you like to browse through more photos showing the reinstatement work involved in the en suite refurbishment pictured above? Take a look at our Facebook page. While you are there, you'll also find out why the Loss Adjuster tried to decline this claim and how IC Assist got it approved.
Is property damage caused by a water leak covered by your home insurance?

If you've had a leak and are unsure if your insurer will cover the repair costs, just give us a call. As, although most standard buildings insurance policies provide cover for sudden or accidental water damage, they don't cover all types.
Most polices exclude damage that occurred gradually or was caused by ware and tare. This means your insurance company may try to decline your claim if the damage occurred slowly, over a long period of time. However, this is where our experience is crucial. IC Assist have overturned many claims initially denied for damage that occurred gradually. A lot of claims are also declined due to poor maintenance, such as failed silicone or grout in shower enclosures or around baths.
Not all policies are the same. We will check your policy wording to determine if you have a valid claim.

Every policy is different and the circumstances leading up to the loss will be unique. That's why we assess each claim individuality to determine if your insurer should cover the cost of restoring your property. Not only that, but there are exceptions in some polices.
For instance, we've come across policies that do not specifically exclude silicone failure. In fact, we were called in to help after sealant failed in a shower enclosure. Initially, the Loss Adjuster was trying to decline the claim. However, after checking the customers policy wording there was no specific exclusion for silicone failure. So we challenged his decision and got the claim approved. Thanks to IC Assist's involvement, the Loss Adjuster agreed to cover the cost of refurbishing the en-suite and re-decorating the lounge below.
Important things you should know when claiming for an escape of water.
When claiming for a water damage repair, you have a duty to mitigate your claim. Therefore, finding and stopping the leak is a matter of urgency. If it is not clear where the escape of water is coming from, our leak detection service will solve this problem. (Where you have 'trace and access' cover on your policy, we can also help you claim for the leak detection fees. As well as the cost to repair any property damage that occurs whilst exposing the defective pipework.)
Once you stop the water escaping, you must then prevent unnecessary secondary damage. For instance, rotten joists or mouldy plasterboard. To avoid this, the strip out and drying process should begin as soon as possible. But don't worry this is something our team can take care of. Where appropriate, we can install our drying equipment straight away. This not only helps stabilise moisture levels and prevent rot and fungi developing. But, it also allows your repairs to start sooner. That's why it's vital to choose a insurance restoration specialist like IC Assist to professionally repair damage caused by a burst pipe, leak of flood.
To get assistance with your claim for water damage repairs call 0800 4337 290.