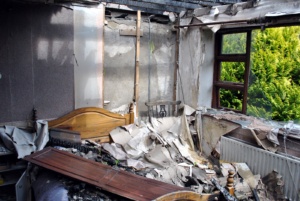 If you're making a fire damage insurance claim, we know how stressful and overwhelming arranging the repairs can be. Due to the scale of destruction both fire and water can cause, fire damage restoration claims can be very complex. They also require a lot of time and professional assistance to ensure your property is repaired and dried correctly.
Understandably, customers can feel out of their depth when trying to deal with the aftermath of a fire. They just don't know where to start or what to do! That's where IC Assist's FREE Insurance Claims Management service is key. Our Claims Manager will be there to answer any questions you may have. He will also give you lots of help and advice – at a time you need it the most!
He'll will also take the pressure off you by dealing with everything on your behalf. This includes liaising with your insurer and anyone they appoint. This could be a Loss Adjuster, Surveyor or Claims Validator. Once your insurer approves your claim, our Claims Manager will project manage our contractors throughout the restoration process. From the initial strip out and drying through to completion of all reinstatement work.
Time is of the essence when dealing with a fire damage insurance claim.
In order to maximise the potential to restore your building and it's contents, it's important you address any smoke damage as soon as possible. As the longer smoke residues remain untreated, the changes of permanent damage increases. This means that items we may have been able to restore (if they were dealt with promptly), then become beyond repair.
If water was used to extinguish the fire, it's equally important to get a professional assessment of the resulting water damage. As, if you do not take action promptly to control humidity levels in the property, secondary damage can occur. Mold for example, can spread rapidly on both building materials and your contents. Therefore, if water damage isn't assessed correctly and your property isn't thoroughly dried out, it can cause further problems later on. For instance, mold can grow on the underside of plasterboard, insulation, joists and spread in ceiling and wall cavities. This can not only result in structural issues, but can also have a serious affect your health.
We provide an emergency repair service to ensure your property is safe and secure.
It can take a while for your insurance company to process and approve your fire damage insurance claim. Therefore, making your property watertight and secure is key. During our initial assessment of the affected areas, our surveyor will identify anything which requires immediate attention. For instance, this could be carrying out temporary/emergency repairs to board up and secure the windows/doors/roof etc. This will not only prevent unauthorised access to your property, but will also help mitigate your claim by preventing secondary damage.
Checks on services in the property such as electrics, gas and plumbing, will also be done to ensure the property is safe. Where necessary, our contractors will carry out emergency repairs to prevent injuries from any damaged building materials that are unsafe. For example, this could be a section of ceiling that's hanging down. Or missing sections of flooring that someone could fall over or through. These procedures will ensure the property is safe for anyone entering in future. As to progress you claim, multiple site visits will be necessary (with the Loss Adjuster, Surveyor or contractors).
As well as emergency and make safe services, we also provide a comprehensive insurance reinstatement service. So we can deal any smoke, soot and fire damage repairs or drying required. We will also manage every part of your fire damage claim – so that you don't have to! IC Assist are a well-established insurance repair company and our mission is to make your entire claim easy and stress free.
What factors determine which fire and smoke restoration method is chosen?
Every fire damage restoration claim is unique. Therefore, the method used to restore the fire and smoke damage will depend on a number of things. Usually, many different approaches are necessary. This is because there are a variety of factors which we need to consider.
Firstly, the type of fire. Was it a slow burning (low oxygen) fire? For example, did the fire start as a result of an overloaded electrical supply? Or if it was a fast burning (high oxygen) fire, such as a fat fire in a kitchen. We also need to take into account if it was an oil, plastic or protein based fire.
In addition we also need to establish the:
Type of construction of the property and what building materials were burnt.
Variety of damage caused as the smoke moved throughout the building.
Method(s) used by the fire brigade to extinguish the fire.
Varying temperatures reached in each room.
A structural surveyor may be necessary if the structural integrity of the building has been affected.
Your fire damage insurance claim may require a Structural Surveyor. They are usually necessary on large, complex claims. Or, where the fire or water damage has compromised the structural safety of the building. If your property requires a structural survey, don't worry IC Assist can arrange this for you. We will arrange for an independent qualified Structural Surveyor to fully assess the damage. Once we receive their report outlining their recommended fire damage repairs, we'll forward it to your insurer. Don't worry, we'll check your policy to confirm if your insurer should cover these costs as part of your claim.
To get FREE assistance with your fire damage repair claim, call IC Assist now on
0800 4337 290.