Our FREE insurance claims management service takes care of all aspects of your claim. As insurance specialists, we manage handle everything on your behalf. This includes dealing with your insurer and any Loss Adjuster they appoint to represent them. Your satisfaction is really important to us and that's why our we tailor our service to your needs.
From the outset, you'll have a dedicated Claims Manager, who will take care of everything for you. He'll be your one point of contact, from the survey of the damage through to completion of the repairs. In addition, he will also update you as the claim progresses. So, you will know what is happening at all times.
Above all, the best part of our claims management service is it's completely free! (We do not charge you or your insurer to manage your claim, providing we carry out the repairs. Please note your policy excess will apply – if you have one.)
Who is our claims management service perfect for?
Our unique service provides professional assistance to anyone claiming on their buildings insurance. (No matter how large or small of what type of damage there is). So it's useful to anyone claiming for property damage. There are a variety of different reasons why people instruct us to manage their insurance claim. Some people simply don't:
have the time or patience to deal with everything themselves.
know exactly what work is necessary to restore their property.
want the hassle of dealing with their insurer/Loss Adjuster/contractors etc.
understand exactly what their policy entitles them to.
have the technical knowledge required to make a successful claim.
know how to challenge an insufficient settlement offer from a Loss Adjuster.
have the flexibility to deal with all the phone calls, emails and site visits (due to work or other commitments).
possess project management skills to organise multiple contractors and building materials to ensure the reinstatement process runs smoothly.
Why is our free insurance claims management service so highly recommended by our clients?
We are often told by our clients how thankful they are that they chose us to deal with everything for them. As they didn't think their claim would require so much time and effort and underestimated exactly what's involved. They also didn't realise just how important it is to have someone working on their behalf. Not only to protect their interests, but to guide and support them throughout the entire process.
Over the last nine and a half years, we've helped many customers with a wide variety of circumstances. Some clients claims were rejected (repudiated) by their insurer. Primarily, this was as a result of customers not having the knowledge or experience to challenge their insurer. Not only that, but they didn't understand their policy wording. As a consequence, they weren't sure what their entitlements were. So as a result, they were extremely grateful they chose IC Assist to represent them.
Most other claims were approved, but the settlement offers were missing a lot of necessary repairs. This took a lot of perseverance and justification on our part to get the insurer/Loss Adjuster to add the repairs they had overlooked. Thanks to nearly a decade of experience in managing property claims, we've helped many customers overturn wrongful decisions made by their insurance company. In each case we ensured their property was repaired in line with what their policy covered them for.
When is IC Assist's involvement particularity beneficial?
Our free insurance claims management service is extremely helpful if you're claiming for water damage repairs after an escape of water, fire or flood. This is because these types of claims aren't easy and can be very complex. Therefore, having a professional company like IC Assist to represent you is key to ensuring your insurer approves your claim.
Our team will work tirelessly on your behalf to ensure:
you get all the repairs your policy entitles you to.
nothing is missing from your insurers settlement offer.
the reinstalment work runs seamlessly, to minimise disruption to everyone in the property.
In addition, water damage claims usually require a variety of specialist contractors, to ensure the reinstatement of your property is to a high standard. So, if you were handling everything yourself, you would not only have to deal with your insures or their Loss Adjuster. But you would also have to contact and co-ordinate multiple contractors. You might also need to arrange visits from drying technicians to install drying equipment. As well as scheduling monitoring visits with the technician, until your property is dry. (As redecoration should not begin until the damaged areas have reached the industry standard of dryness.)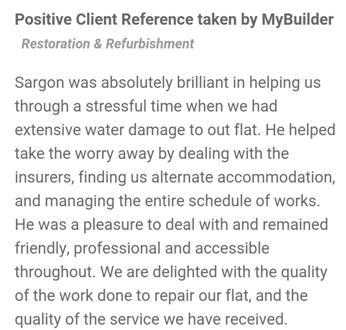 What our Claims Manager will do for you:
Thoroughly assess and document the damage.
Forward a detailed quote and pictures of the damage to your insurance company.
Meet with your insurer or their Loss Adjuster to agree all necessary repairs.
Regularly liaise with the Loss Adjuster/ insurer, to ensure they authorised repairs as soon as possible.
Instruct our contractors to carry out the repairs.
Oversee all repairs to ensure they meet our high standards.
Let us get your claim moving – take advantage of our FREE service now!



Our free insurance claims management service takes care of your insurer, their Loss Adjusters, the contractors and all the emails and phone calls. So claiming for property damage with IC Assist really is easy and stress free! Simply call us now to book your no obligation survey and leave the rest to us. Feel free to take a look at our Google reviews or Facebook testimonials to see what our clients think about both our claims management and insurance repair service. You can also see our customer surveys and testimonials in our album on Facebook.
Call 0800 4337 290 to book your FREE survey and get free help and advice throughout the entire process.