Making a flood damage insurance claim and need some help? Just give IC Assist a call. If your property is damaged following severe flooding, coping with the aftermath can be a very upsetting and traumatic experience. You may be so overwhelmed by the destruction to your home and contents, that you just don't know where to start! But don't worry, IC Assist are here to help. We will make things easier for you during this stressful time.
Flood damage repair claims can be very complex and require a lot of time and expertise to ensure your home is professionally restored. So why not just leave everything to us? Our free claims management service takes care of everything on your behalf. This removes all the burden and worry from you. We will handle all aspects of your claim from start to finish. From our initial survey, right through to the completion of all the repairs. We also deal with your insurance company and any Loss Adjuster they appoint.
Get a professional survey and flood damage repair schedule.
The most vital part of ensuring your property is repaired correctly, is instructing an expert to assess the full extent of the damage. As there can be a lot of unseen/hidden damage that can affect your health and the structure of the building. Using a specialist will give you peace of mind that nothing is overlooked.
Cavity walls and insulation for instance, can become a breeding ground for mould which can spread rapidly. There are also the dangers of the contaminates found in flood water – so it's important these building materials are inspected. Otherwise, you will have a whole host of problems after you move back in!
Once the initial strip out work is complete, we will put together a detailed schedule of works. This will outline all works required – line by line from start to finish. This will result in a professionally repaired home that not only looks good, but is safe to live in!
What is classed as a flood damage claim?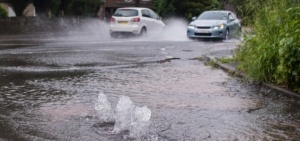 The term 'flood' is often confused with an 'escape of water'. Flood damage happens as a result of events outside that cause the level of water to rise and enter a property. For example, where water escapes its boundaries and enters (floods) a property. This could be due to a river or canal bursting its banks or high tides. Floods can develop slowly or they can occur in a matter of minutes – causing thousands of pounds worth of damage!
An escape of water however, occurs inside and is usually as a result of a burst or leaking pipe/water tank/appliance. This can include water escaping from a boiler, sink, shower, bath, toilet, water tank, washing machine or dishwasher etc. If you are claiming for repairs as a result of plumbing issues, please take a look at our water damage repair service page. Escape of water claims typically involve repairing damaged ceilings, walls and floors. They can range from minor repairs following a leak, to extensive property renovation caused by a hidden leak or burst pipe.
Ground water flooding can occur following heavy or persistent rain and can also damage properties.
Following heavy or prolonged rainfall, property damage can also occur as the level of water in the soil or rocks underground increases. As the water reaches ground level it can seep up through floor surfaces. This can leave concrete floors and basements saturated. It doesn't always happen immediately – it can appear days, weeks or months after! This is known as ground water flooding. This type of flooding can last weeks or months.
Key stages to restoring your home after a flood.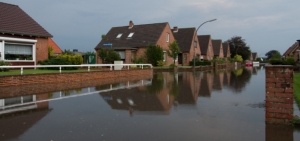 Before any clean up begins, our initial priority is to make your property safe. Precautions need to be taken with regards to electrical safety. This can be a simple as disconnecting electrical appliances and isolating the power to the building. But will also involve electrical testing by a qualified electrician.
We will also ensure that your building is secure. As sometimes doors may not function properly after the water subsides.
How to mitigate your claim and prevent substantial destruction to your property.
When making a flood damage insurance claim, there are several other important steps that need to be initiated to help mitigate your claim. All of which IC Assist can arrange:
Remove any remaining standing water –

Ideally this should be done within 24-48 hours to prevent mold growth. Large volumes can be pumped out.

Take out soaked and contaminated items –

Glass, porcelain, plastic may be restorable. However, porous materials such as carpets, vinyl, upholstered furniture, kitchen cupboards are likely to be disposed of. Especially if they were under contaminated water for more than 24 hours.

Strip out building materials that absorbed harmful flood water –

Mud, sewage, bacteria and other harmful toxins can be deposited onto building materials and they must be removed too. This can include lifting floor coverings such as laminate, vinyl, tiles etc. Affected plaster and plasterboard will also need to be cut out. As a minimum, this should be up to meter above the water line. Skirting boards, floor boards, doors and door frames may need to be ripped out too.
Important actions after the initial strip out that must be completed before any reinstatement begins:
Sanitise the affected areas –

to remove sewage or other contaminates that are harmful to your health. Appropriate protective clothing and footwear is used during this process as it is classed as 'black water'. Making it a severe health hazard.

Install drying equipment –

to dry saturated or wet walls and sub-floors. We use state of the art Dri-Eaz equipment such as the LGR Revolution and their Sahara turbo air movers. Throughout the drying process moisture readings are taken. This ensures our equipment is being used to its best effect to allow repairs to start as soon as possible.
IC Assist will arrange all this for you. However, should you want to tackle the flood damage clean up yourself, you can download a useful self help guide to flooding from the British Damage Management Association. You can also find lots of other flood help and advice here.
We offer a complete flood damage repair, respiration and drying service.
We have a professional team to completely restore the flood damage to your property. They will deal with everything from the initial strip out and sanitising to the drying and reinstatement. As soon as the water damaged areas have been cleaned and certified as dry, our team of contractors will get straight to work. We have very high standards and will work tirelessly to transform your home to its pre-loss condition. We can restore all types of damage caused by a flood. Leaving you with clean and beautiful new rooms to move back into. We provide a complete building repair service. So, if your kitchen or bathroom was also damaged, we can refurbish these too.
Beware Asbestos could be uncovered whilst stripping out flooded properties.
There is a risk of disturbing Asbestos during the strip out of flooded properties. As Asbestos was widely used in a wide range of building materials before being banned. The most common hazardous material we come across when removing water damaged floor coverings is Marley tiles. Asbestos was used in these vinyl tiles and in the bitumen adhesive (used to bond the tiles to the concrete sub floor). We often find then underneath carpets, laminate, tiles and vinyl in older properties.
You can see an example of a how we professionally dealt with Asbestos found in Marley tiles and adhesive on our Facebook page. The tiles were uncovered during the removal of water damaged engineered flooring.
In order to dry the concrete sub floor, the Marley tiles and adhesive will need to be removed. As they will act as a barrier and keep moisture trapped underneath. Therefore, samples of the tile and adhesive will be taken for analysis before we disturb them. Asbestos can also be found in Artex/textured coatings, loose fill insulation, AIB and many other builder materials. This is why it is so important that care is taken during the strip out to avoid potentially disturbing Asbestos!
Alternative accommodation will be required whilst your flooded property is being restored.
Dealing with a flood damage insurance claim can be a very lengthy process. Due to the scale of the repairs, your home will become a building site. So for your safety, you will need to be rehoused whilst your home is being restored. Your insurance may cover you for this. Otherwise, you could possibly stay with friends or family until your home is in a habitable condition again. If your property has been flooded and you're looking for a reliable and professional company to deal with your claim for flood damage repairs, just get in touch.
Call 0800 4337 290 to get a FREE flood damage repair survey