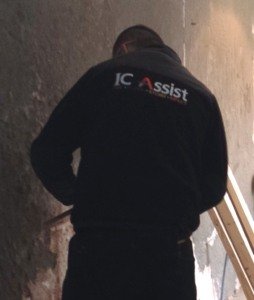 If you're claiming for damage to your property, finding professional insurance repair builders can be a difficult task. However, it's important not to rush and just choose any builder to get a quote for your repairs. In fact, as most tradesmen are not trained in insurance, they aren't usually interested in quoting for insurance repairs. This is why many of them don't turn up to look at the job. Or if they do come out, they never get back to you with a quote!
IC Assist however are different! We won't waste your time. We will turn up and we'll forward a comprehensive insurance repair quote direct to your insurer. Not only that, but our Claims Manager will handle every aspect of your claim at no cost.
FREE Claims Management Service – a unique service not offered by most other builders.
IC Assist take away all the stress of claiming for damage to your home, by managing everything on your behalf. (All at no cost to you or insurance company!) We'll protect your interests and make sure your insurer deals with your claim fairly. Initially our Claims Manager will carry out a professional survey of your property. During this time, he'll document the damaged areas and discuss everything with you in detail. He'll then forward a list of recommended repairs to your insurer for their approval.
At this point, your insurer may send out a Loss Adjuster to inspect the damage. But don't worry, our Claims Manager will represent you during the meeting. This ensures their settlement is in line with your policy cover. Once your insurer authorises us to proceed, we'll instruct our contractors to carry out the reinstatement work. All works will be managed through to completion. There is no charge for managing your claim, providing IC Assist carry out all authorised repairs. (Any policy excess however, will still apply).
Our wide range of building repair services caters for all types of property damage claims.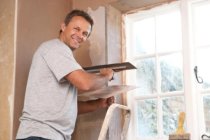 Most insurance claims require several skilled tradesmen to professionally restore a property. That's why IC Assist have a carefully selected team of; plasterers, decorators, plumbers, tilers, electricians, carpenters and flooring fitters. This allows us to provide a complete building restoration service to reinstate any type of damage to your home.
Making a claim for damage caused by a leak, burst pipe or ingress of water after a storm? IC Assist's water damage restoration and drying service takes care of everything. From repairs to damaged ceilings, walls, flooring or joists. To a complete kitchen, bathroom or property refurbishment.
We can also help with claims for significant damage too. This includes completely removing all the burden that comes with dealing with stressful and complex claims. For instance, dealing with fire damage restoration, repairing malicious or criminal damage to your property, or flood damage clean up and restoration.
We have over 35 albums showcasing before, during and after pictures of water damage insurance repairs our team have completed on our Facebook page. Please feel free to have a browse.

Depending on the nature of your claim, our drying equipment can be set up immediately. This helps mitigate the extent of the repairs. It also prevents mold growth and damage to the fabric of the building, and also allows renovation work to start sooner.
Our Asbestos sampling, testing and removal service is perfect for damaged building materials that could potentially contain asbestos. For instance, Artex ceilings or water trapped underneath Marley/Vinyl tiles. (These old fashioned tiles are commonly found when lifting damaged flooring in older properties).
We're not like most other building companies. We specialise in managing home insurance claims.
As insurance repair builders, we have a lot of experience managing property claims. IC Assist are totally independent and will represent you to ensure your insurer handles your claim fairly. For nearly a decade, we have successfully represented our customers to ensure they received a fair settlement.
During this time, our Claims Manager has dealt with many different companies such as; Ageas, John Lewis, Zurich, Churchill, AXA, NatWest, Legal & General, Aviva, Allianz, Halifax, Principality, Lloyd's, NIG, Ecclesiastical, Co-op, NFU, Nationwide, Integra, More Than, Just Landlords, Santander, Swinton, Paymentsheild, Covea etc.
We've also negotiated and settled claims with Loss Adjusters and claims validation companies appointed by insurers from a wide range of firms. This includes Cunningham Lindsey, Crawford, Woodgate & Clarke, Ellis May, Imperial Consultants, GAB Robins, Asprea and many more. So, no matter who your insurer is, or which Loss Adjuster they appoint, IC Assist can help.
IC Assist take the stress out of making a buildings insurance claim.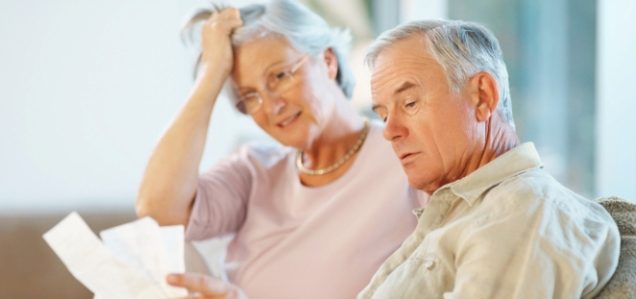 Dealing with a buildings insurance claim can be an extremely time consuming and annoying task. But this is not the case when you choose IC Assist to manage everything on your behalf. We manage every aspect of your claim to ensure you have a claims experience that is easy and stress free!
Don't just take our word for it. Take a look at our Facebook testimonials, Google reviews or My Builder client references. You can also see handwritten feedback and customer surveys in our Facebook albums.
So, please don't waste your time arranging multiple quotes. As usually, most insurers and Loss Adjusters are able to work with our comprehensive quote.
We care about you and do our very best to ensure you receive the best possible claims experience.
Making sure you claim runs smoothly is our top priority. So, you can relax knowing we will do all the hard work, so that you don't have to! Right from dealing with the insurer or Loss Adjuster in order to get your claim approved. To organising the repairs, ordering building materials and managing our team of contractors. Our tradesmen do not cut corners and will treat your home as if it were their own!
IC Assist have built a great reputation, which is why we get a lot of referrals from past customers. We are often contacted by friends, family and colleges of our customer, following an amazing recommendation from them! We have so many grateful and very satisfied customers. (As without our help, the settlement offer wouldn't have covered the costs to professionally repair their home.)
You get professional assistance. We ensure your insurer doesn't overlook any necessary repairs!

Your insurance company has a professional representing them and you should to! Especially following an escape of water or flood. Why? Well, most insurance companies instruct Loss Adjusters/Surveyors/claims validation companies on their behalf. Their main purpose is to settle claims for the lowest possible amount. However, more often than not, they are either inexperienced or overworked. This means they rush and don't have the attention to detail required to scope the repairs correctly. This leads to a poor and insufficient settlement offers. We come across this all the time. In fact, this is what makes our job so rewarding. We love having the knowledge and experience to challenge their offers and do what is best for our customers!
As insurance repair builders, we pride ourselves on providing a service that is unique to other building companies.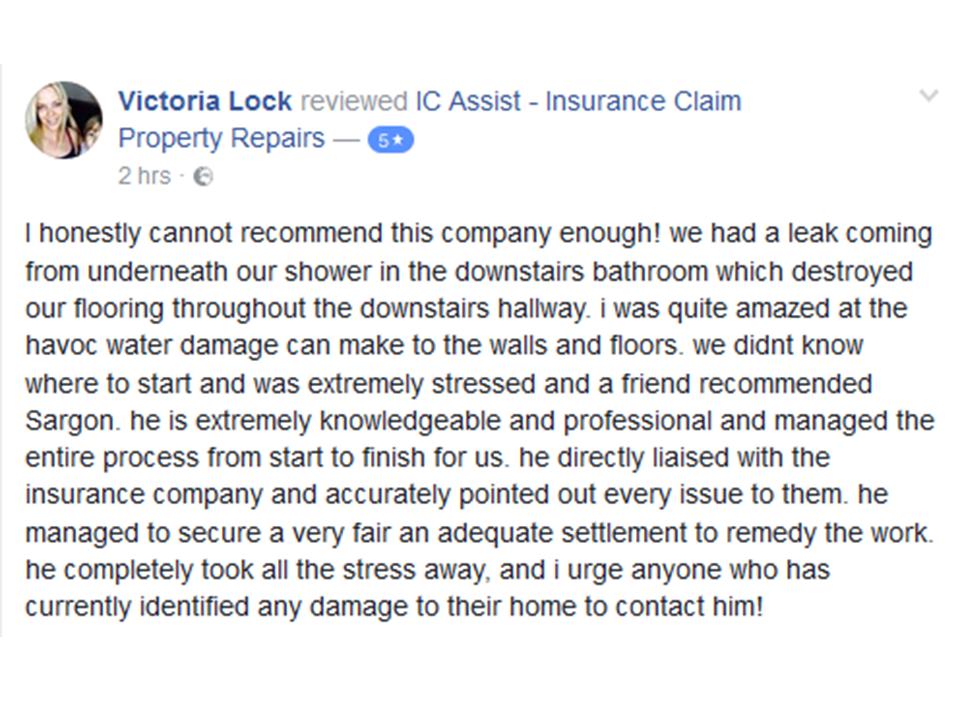 What sets IC Assist apart from other insurance repair builders? Well, it's the great deal of time and effort put into ensuring our customers get a fair settlement. Firstly, we meet the Loss Adjuster/Claims Validator at the property to discuss the reinstatement work required. Then following their visit, we'll request a copy of their scope of works for us to carefully review. This is vital as, despite seeing the damage themselves, Loss Adjusters can still overlook a lot of the work required!
After carefully reviewing their scope, we'll advise them of anything they're missing. Our Claims Manger will also justify why this repair work is necessary. But most importantly, our team are persistent and won't rest until we're satisfied everything is included (according to your terms of your insurance policy). Once your insurer approves your repairs, we'll instruct the most appropriate trades required to restore your property. This can include; plasterers, decorators, tilers, plumbers, carpenters, electricians, builders and flooring fitters.
These are just a few benefits of choosing IC Assist to manage your claim and carry out the repairs, and there are many more…
To book your FREE, no obligation survey of the damage to your property call 0800 4337 290