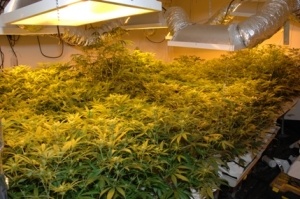 The number of landlords having to make a malicious damage claim on their buildings insurance is increasing rapidly. This is largely to do with the rise in the number of rental and un-occupied properties being converted into cannabis farms.
The significant destruction caused by unscrupulous tenants/criminals is a big problem for property owners. This is because it can take a lot of time and money to restore their property back to its previous condition.
You can see some pictures of properties damaged by tenants growing cannabis on our Facebook page. These were taken by our surveyor on claims we were called in to assist with.
What damage do criminals cause to buildings when setting up cannabis farms?
The aftermath of this type of criminal activity can be so bad, that some landlords can't even face going back into their property! The mess, smell and destruction left behind is awful. All the carpets are usually ruined as they traipse fertiliser and soil everywhere. The windows are usually damaged where they have tried to black out/board up the window panes. Then, there's all the large holes cut into ceilings and walls. These are used to run their ducting through for ventilation.
However, the real concern is what these criminals do to the electrics. As a lot of artificial lighting is required to grow their plants, it's common for them to tamper with electrical circuits. They do this to bypass the mains supply. They also add dangerous numbers of additional electrical sockets. Often, they'll fit them next to each other in rows and mount them on doors, sheets of timber or attach them to the wall. Scorch marks are typically found on the surfaces they've been fixed to. These make shift electrical alterations are dangerous and could cause a fire!
The scale of these criminal operations is also rising, as these criminals target much bigger properties. Take a look at this article showing industrial scale cannabis farms set up in a bank, hotels and bingo hall.
Get professional assistance with your malicious damage claim.
If you're claiming for damage to your rental property caused by tenants turning it into a cannabis farm, IC Assist can help! It can be very distressing when you discover what they've been getting up to behind your back. We know how unpleasant it is when you see the aftermath of cannabis farming for the first time. What initially hits you is the overwhelming and disgusting smell throughout the house. This is due to a combination of the increased humidity, fertilizer and intensive farming. However, the real shock comes when you see the full extent of the destruction and the awful condition your tenants have left everything in! But don't worry, our Claims Manager will help you with every aspect of your claim.
Our FREE claims management service removes all the stress of claiming for malicious damage repairs.

Arranging the clean up and repairs to a building with malicious damage can be a daunting and time consuming task. In fact, most landlords just don't have the time to deal with repairs on this scale. Even for those that do, it can just be too much to cope with. We understand how devastated you must be to see your investment in such a terrible condition. Especially when you have invested a lot of time, effort and money into it.
So why not let IC Assist take care of it for you? Our Claims Manager will meet your insurer or their appointed Loss Adjuster on site to discuss the claim and agree the necessary repairs. He will also produce a detailed schedule of works and send it direct to your insurer for their approval. Once they approve your claim, we'll instruct our team of carefully selected contractors to restore everything back to its pre-loss condition.
Just one of the benefits of IC Assist managing your claim for you, is that you won't need to go back into your property until it's fully cleaned and restored. But there are many more reasons to take advantage of IC Assist's unique free service.
IC Assist's insurance restoration service caters for all types of criminal damage.

It requires a lot of work to repair a building that has been used to grow cannabis. As usually the whole building requires a complete refurbishment. IC Assist provide a complete building repair service, so we can deal with all types of damage. This includes broken windows and doors, vandalism and arson. So, you won't need to arrange a thing. Our Claims Manager will work hard to settle your claim quickly, so we can get on with transforming the destruction into a welcoming home again.
Ensuring your property is safe and secure is IC Assist's first priority before beginning any reinstatement work.

When dealing with your malicious damage claim, a 'make safe' is our initial concern. This will involve ensuring all doors and windows are secure (which can be damaged by the police or fire brigade when forcing entry). We'll also get a qualified electrician to check your electrics and rectify any issues he identifies. In addition, our registered waste carriers will get straight to work removing all the muck and debris left behind. As well as stripping out any ruined building materials that are beyond economical repair. Once this has been done, we will begin the reinstatement works.
Call

0800 4337 290

to get a FREE survey of the damage to your rental property