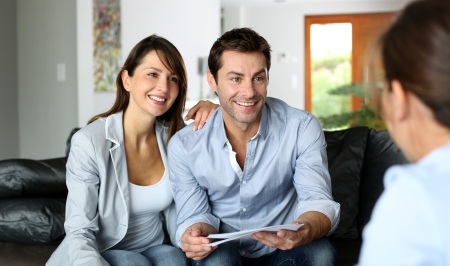 Why use IC Assist to manage your home insurance claim? Well, because making a claim is time consuming and a hassle most people could do without! Initially your insurer will ask you to get several quotes. However, quite often this is not necessary. This is because most Loss Adjusters are happy to work with just our quote. So, if you're claiming for repairs to your property, just give us a call.
The unique service provided by IC Assist, saves you the stress of dealing with your insurance company, the Loss Adjuster and multiple contractors. As insurance claim specialists, we've been helping property owners make successful claims for a over a decade. So please be assured that we will handle your claim professionally and with the greatest of care.
Once our survey is complete, our office will send a detailed schedule of works to your insurer for their approval. It will include a total cost for our recommended repairs, along with high-quality photographs and precise measurement of the damaged room(s). So, this is yet another thing you won't need to do!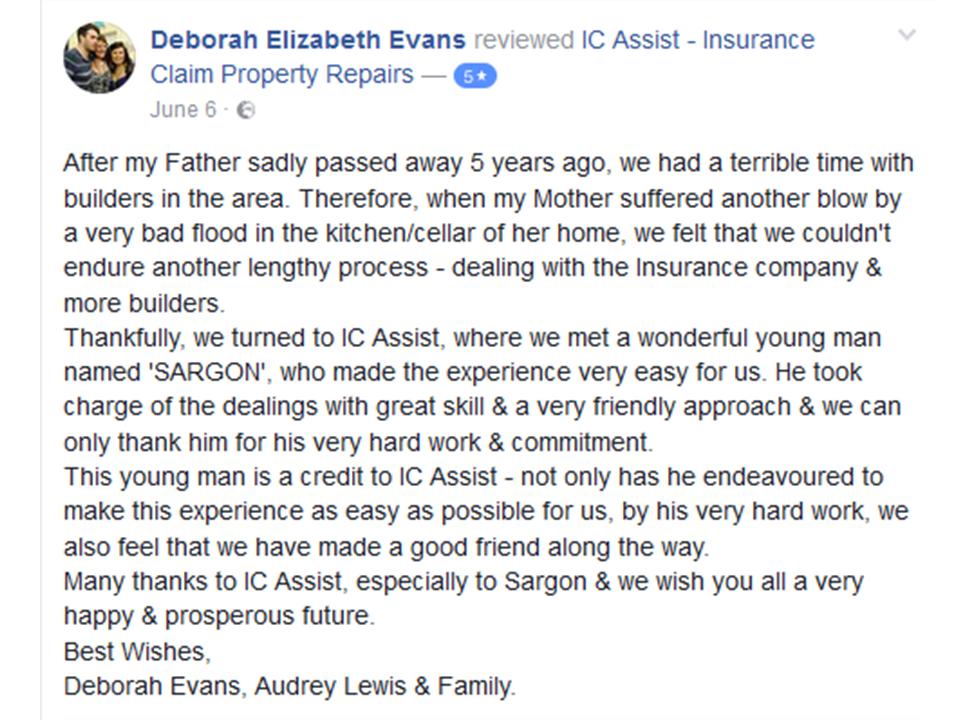 Benefits of choosing IC Assist instead of a general contractor:
FREE survey & fixed appointment –

our surveyor will turn up on time.

Detailed quotes –

sent direct to your insurer in a format they accept.

FREE claims management –

IC Assist deal with everything on your behalf.

Faster claim authorisation –

we chase your insurer to progress your claim.

Stress free

– we deal with your insurer, instruct tradesmen and oversee all repairs.

Quality workmanship –

12 month warranty on all our work as standard.

Professional service –

our carefully selected contractors do not cut corners and use good quality materials that are built to last.

Your home is left clean and tidy –

we sheet up to protect your home & belongings, remove any rubbish and clean up on completion.
We're insurance claim repair specialists – so you're in safe hands.



If your property has been damaged, don't worry – just leave everything to us. After just one call to IC Assist, you don't need to do anything else. We will assign you an experienced Claims Manager who will handle your claim with great care. Most importantly, he'll work on YOUR behalf – not your insurers! This means he will deal with the insurance company and anyone they appoint, such as a Loss Adjuster. Above all, he'll ensure they cover all necessary repair costs (in line with your policy).
Our free claims management service takes everything off your hands. This means you won't need to deal with your insurer, Loss Adjuster or contractors. In addition, we will do all the hard work to get your property back to normal as quickly as possible. All whilst causing minimum disruption to you and anyone else living in the property. So, why not let IC Assist make your claims experience easy and stress free?
Would you like to see the quality of our workmanship or what repairing a property can involve? Just visit our Facebook page, where we have over 35 albums showcasing claims IC Assist have managed.
Using IC Assist to manage your insurance claim will ensure:
There is no cash outlay for you

– Our claims management service is completely FREE, providing we carry out the repairs and manage all works through to completion. (You only pay your policy excess if you have one.) Our Claims Manager will agree all repair costs with your insurer before any work begins. Therefore, you can be confident that your insurer will pay for all repairs your policy covers you for. (After all that's what your insurance is there for!)

You get quality repairs –

All our contractors are experienced and fully insured, giving you complete peace of mind that your property is in good hands. We think it's important that the whole claims process is as straightforward and stress free as possible. That's why our team strive to deliver a quality service every time. To find out more about our team and the services we provide, please visit our building services page.
What you will get from IC Assist, that you won't get from other contractors.
Professional representation that ensures your interests are protected – Your insurance company may appoint a Loss Adjuster to manage the claim on their behalf. Whilst they may claim their Loss Adjuster is independent, ultimately, they work on your insurer's behalf. (In other words, they are trying to keep repair costs down and save your insurer money.) On the other hand, IC Assist will meet your insurer or their Loss Adjuster to represent YOU. This ensures your property is reinstated fairly – as per the entitlements under your policy.
High-quality & personalised service – No two claims are ever the same. That's why we offer a service which we tailor to you, your property and your policy. This combined with our high standards and hard work, is how we ensure our customers are happy with our service.
Hassle free claims management – Once you appoint IC Assist to manage your claim, you don't need to do anything else. You can simply just get on with life and leave it all to us! We'll manage everything from start to finish, keeping you updated along the way! For instance, our Claims Manager will assess the damage, submit a quote and agree the necessary repairs. As soon as your insurer approves your claim, our Claims Manager will project manage all work to your complete satisfaction.
To see for yourself how happy are customers are, take a look at the selection of customer reviews on our Bark profile and customer surveys on Facebook.
Did you know?
You don't have to use your insurer's contractors –

you can choose your own.

There's no need to get several quotes –

insurance companies are normally happy to work with just our quote.

You're fully entitled to appoint IC Assist to manage your claim –

we don't charge for managing your claim (providing we carry out the repairs).
To see answers to questions asked by our customers over the years, please see our Frequently Asked Questions
Call 0800 4337 290 now to book your FREE no-obligation survey