Making a storm damage insurance claim to cover the cost of repairing damage to your property? IC Assist can help. Violent winds during a storm can not only knock down boundary walls. But strong gusts can also cause roof tiles to slip or blow off. When accompanied by high volumes of rain/hail/snow, this can lead to internal damage to ceilings, walls and floors.
So, whether there's water dripping into your property, your roof has collapsed,or your garden wall has blown over, just give us a call.
We provide a comprehensive storm damage repair service.
As insurance repair contractors, we provide a professional insurance reinstatement service, so we can assist with any type of damage caused by a recent storm. From internal water damage to ceilings, walls and floors. To re-building boundary walls that have collapsed due to strong gusts of wind. Please see below some examples of the most common types of storm damage claims that benefit from IC Assist's insurance repair service.
Examples of the most common storm damage repairs we assist with:
Roof repairs
Collapsed boundary walls
Property drying
Treating, drying or repairing joists
Stain blocking and painting minor water stains on ceilings & walls
Renewing collapsed ceilings
Repairing holes or cracks in Artex ceilings
Plastering & decorating wet, stained or blown walls
Flooring restoration or renewal – solid wood, laminate flooring, vinyl, tiles, carpet etc
Electrical testing
Please note, this is not an exhaustive list of our storm damage repair service, so please feel free to get in touch if the damage to your property is not listed above.
You can see some pictures of ceilings and walls damaged as a result of a storm on our Facebook page.
Claims for storm damage to boundary walls that have collapsed.
The brutal force of high winds during a storm can cause boundary walls to collapse and come crashing down. Providing your wall was in a good state of repair prior to the storm, your policy should cover you to re-build your wall. Please note Insurance companies decline a lot of claims for re-building walls that have fallen down. Usually because it was clear that the wall was not maintained and was in poor condition. The most common reasons insurers decline claims for repairing boundary walls are; vegetation growing in the mortar joints or cracked or missing mortar.
Party Wall Act 1996 – If you share your boundary wall with a neighbour, you are legally required to serve them a Party Wall Notice. This means that no work can start until your neighbour consents to the proposed work. If a Party Wall Surveyor is required, we'll check your policy wording to see if your covered. We can also instruct a Party Wall Surveyor to ensure everything is done correctly.
An example of the type of damage storms can cause to brick walls can be seen in an article online where an entire four feet high garden wall was flattened.
IC Assist can also help with flood damage caused by flash flooding.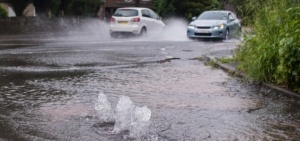 Torrential rain can also cause flash flooding as the levels in nearby rivers rise. Floods can cause significant destruction to properties. Usually because there isn't enough time to protect homes from the gallons of flood water gushing in. What's even more shocking is that properties can be flooded several times (as was the case with storm Ciara and storm Dennis). This causes unbelievable distress and ruins homes and belongings.
If your home is flooded, we provide a complete flood restoration service. This gives homeowners professional guidance and assistance when making an insurance claim following a flood.
How do insurance companies define a storm?
The definition of 'storm damage' can be open to interpretation. This is because every policy differs and some policies don't define exactly what a storm is. Therefore, it's important to check your policy wording for clarification when claiming for storm damage repairs. This is something we can do for you – as it isn't always easy to understand what part of your policy it falls under.
Most insurers use the Beaufort scale to establish wind speed or gusts. Where they rely on this, they will state in their policy wording what they class as storm force wind speeds in relation to the Beaufort scale.
When the Financial Ombudsman (FOS) review complaints over a declined (repudiated) storm damage insurance claim, they may apply their own definition of storm. The FOS may do this when there is no clear definition set out in the policy wording.
This means they could decide to approve a claim for significant property damage due to high volumes of rain, hail or snow (in a short space of time). Or when the level of rain, hail or snow is extreme. (As the weight of a lot of snow can a roof to collapse once it settles.) However, this will all be dependent on providing sufficient evidence to support.
You may need to make an 'accidental damage claim'.
If a tile is blown off a well maintained roof during stormy conditions, this is clearly weather related damage. As a result, making a claim for a storm damage repair should be straightforward. However, if internal water damage occurs as a result of rain water entering a property via a roof damaged by a storm, it may be classed as 'accidental damage' on some polices. (Please note that accidental damage is not included as standard on most buildings policies – it is often an optional extra. So, if you didn't opt for this level of cover your insurance company might not pay for the repairs.)
How to determine if you have a valid claim for storm damage repairs.
Insurers look at many factors when trying to determine whether a storm claim should be approved. The most common reason insurers decline claims is due to lack of maintenance or wear and tear. Therefore, in order to present a valid claim to your insurer, they are a number of factors that we must consider.
Firstly, it must be evident that your property was in a good condition and well maintained at the time the incident. Secondly, we need to prove that there was a storm, with the right wind speeds in close proximity to your property at the time the damage occurred. (Looking at records from weather stations in your area helps with this.) As they will show wind speeds at given times throughout the day. The Met Office also keeps a log of all storms.
We can also take a common sense approach too. For example, if there is widespread damage to other properties in close proximity to you, this will help your case too! These are just a few benefits of IC Assist's unique free service and there are many others too.
You must act quickly to prevent unnecessary damage to your property.

When making a storm damage insurance claim, your insurer will expect you to take action to mitigate the extent of the damage. This means you must take reasonable care to avoid the affected areas getting any worse. So, if water is still leaking in from you roof due to a recent storm, it's important to get it repaired as soon as possible. This will therefore stop the rain getting in and prevent unnecessary water damage to your ceilings, walls & floors. As the longer the rain pours in, the more saturated the building materials will get. Subsequently increasing both the scale of the damage and cost of the repairs. In addition, longer drying times may be required, which will delay the reinstatement works to your property.
Need help claiming for storm damage repairs? Call IC Assist now on

0800 4337 290