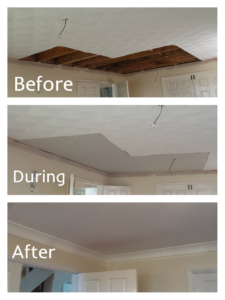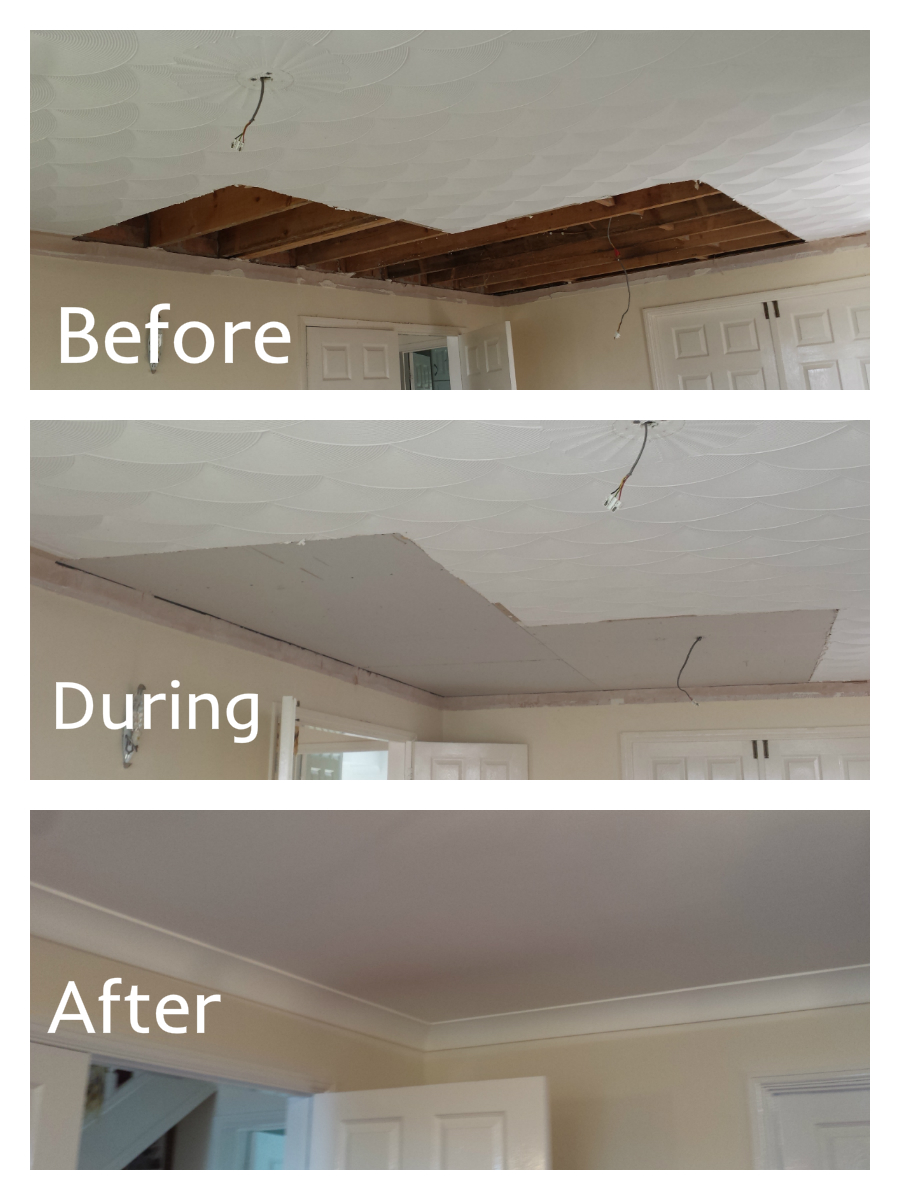 You should take caution when dealing with Artex ceiling repairs, as textured coatings can contain Asbestos! So, if you're claiming on your insurance for damage to your Artex/textured ceiling, it's important to choose a reputable contractor. One that, will treat your repairs with care.
This is because, white Asbestos (Chrysotile) was widely used to strengthen textured coatings. That's until it was banned in 1999. During the 60's, 70's and 80's, textured coatings were very popular. Mainly because they were cheap, strong and durable. But also due to the diverse range of decorative finishes you could create on ceilings and walls. As a result, we're still finding Asbestos in properties decorated with these products prior to 1999.
Water damage to Artex/stippled ceilings is very common. Usually due to a burst or leaking pipe from a bathroom or flat above. However, a large number of home owners and contractors don't know the potential dangers of disturbing Asbestos. Consequently, a lot of people repair their Artex without testing it first!
Please note that textured coatings only pose a risk when you disturb them. So, if you need to repair damage to your textured ceiling – don't panic we're here to help!
Our contractors repair all types of Artex ceiling damage.
We renew all varieties of textured ceilings. From simple patterns like stipple, peel or broken leather to swirl, circle, shell and circle and more. As insurance restoration specialists, we can also assist with any other property damage too. This includes damaged walls, floors, bathrooms and kitchens.
IC Assist's team reinstate all kinds of water damaged Artex ceilings including: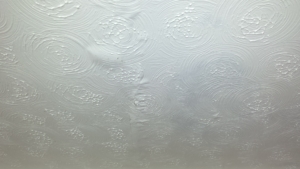 Cracks
Water stains
Bubbles or holes
Collapsed Artex ceilings
Bulging, sagging or bowing plasterboard
Why not take a look at some of the different types of Artex ceiling repair claims we've helped with?
It's important to choose a professional company to deal with your Artex repairs safely.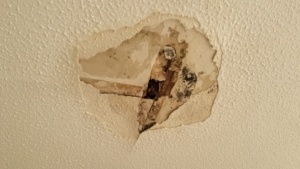 Not taking precautions when repairing damaged Artex, can put everyone in your property at risk. So, before disturbing your Artex ceiling, be wise. Get a professional company like IC Assist to sample and test it first.
There are also a lot of contractors who don't know how to identify Asbestos either. So be aware that they could potentially disturb it while repairing your ceiling without realising it!
Our assessor however, knows exactly what to look out for and how to identify Asbestos. He will also tell you if there are any other damaged building materials that may pose a threat.
Please note that old Artex coatings can also be found underneath PLASTER ceilings. This is often overlooked by contractors when fixing plastered ceilings. You can find out more about out what precautions to take before repairing a plastered ceiling on our Facebook page.
We sample and test Artex ceilings for Asbestos before any work begins.
IC Assist have been managing water damage claims involving textured ceiling renewal for over a decade. Prior to disturbing any Artex/textured coatings, we take sample(s) to an independent UKAS certified company for analysis. This ensures no one is put at risk. Especially as, a large number of samples sent for testing, actually contain Chrysotile (Asbestos). That's why it's important to choose a professional company like IC Assist to manage your Artex repair claim.
We do not install drying equipment until it is safe to do so.
We wait to receive confirmation that there is no Asbestos present, before putting our industrial fans in to dry your property. Doing this prevents Chrysotile fibers potentially being blown around. That's if for example, a ceiling unexpectedly collapses whilst waiting for the test results! (Just as shown in an article from the Guardian. It not only identifies hidden health hazards of Asbestos. But is also shows problems a homeowner faced when his Artex ceiling collapsed due to a burst pipe. His problem was made far worse as fans/air movers were running in his property.)
Associated costs of removing an Artex ceiling containing Asbestos.
There are other factors to consider when removing ceilings that contain Asbestos. However, don't worry, providing you have a valid claim, your insurer will cover the additional costs to:
Safely remove the entire ceiling (including plasterboard).

Removing all coving & insulation – if you have it (we need to remove these to renew ceiling).

Safely dispose of all contaminated materials.

Carry out a re-assurance test to confirm property is safe for re-occupation.

Check the condition of joists and if necessary, sanitise, treat or repair them (after a leak or burst pipe).


Fit new plasterboard to the ceiling.

Re-Artex or plaster the ceiling (depending on what finish you would prefer).


Renew the coving.

Paint the ceiling, coving and walls.
The before and after pictures above show a shell and comb patterned ceiling with a large crack. IC Assist were called in to help following a leak from the loft. We took a sample and the test results were positive for Chrysotile. Our licensed contractors came in to safely remove the entire landing ceiling, coving and insulation.
An independent firm then ran an air test to ensure the property was safe for re-occupation. As soon as they confirmed it was safe to re-enter, our team began reinstating the property. Starting with the renewal of the loft insulation and ceiling plasterboard. Followed by the installation of new coving, prior to applying a new shell and comb pattern. Once dry, the hall stairs and landing were completely redecorated.
A complete solution to your Artex ceiling repairs – including Asbestos sampling, testing and removal.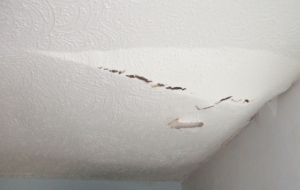 IC Assist are here to help with more than just Artexing and decorating. If our surveyor identifies any damaged building materials that might potentially contain Asbestos, he'll inform your insurer and ask for their authorisation to test it. Once they give us the go ahead, we'll take a sample(s) and seal the section to prevent any loose fibers escaping into the air. It will then be taken to a local independent UKAS certified lab for testing. Once our office receives a certificate confirming the results, we will forward a copy to you and your insurer.
If they identify Asbestos in the sample(s), our Claims Manager will instruct a HSE licensed company to safely remove it. They will lay protective sheeting, seal their working area and thoroughly clean up. On completion, another independent specialist will run a reassurance air test. This ensures the air is clean and safe (in accordance with Health and Safety Executive guidelines). You can see an example of the sheeting up and precautions we take before removing an Artex ceiling containing Asbestos on our Facebook page.
Some customers prefer to replace their old Artex ceiling with a flat plaster finish.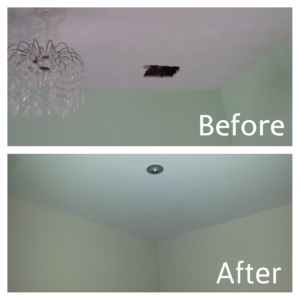 Textured ceilings aren't very popular now. This is why many customers ask us to replace their patterned ceiling with a flat, modern plaster finish instead. If you would like to change the finish of your ceiling, that's not a problem. Especially since it's become a widely acceptable practice which insurance companies allow.
Our claims manger took these pictures on an escape of water claim, following a leak from concealed pipework in a wet room. Our customer chose to replace her swirl ceiling with a plaster finish. Repairs were necessary to her wet room and lounge. As it was a wet room, cutting her lounge ceiling was the quickest way for the emergency plumber to fix the leak.
The whole team worked hard to re-decorate their lounge ceiling and walls and we gave their wet room a whole new look too. This client also took the opportunity to modernize their lounge whilst we were carrying our their insurance repairs. They chose to install spot lights, complementing the new smooth plaster ceiling nicely.
You can see more before and after pictures at the top of the page, were our client decided to replace their Artex ceiling with plaster. Following a leak from their shower trap, we gave their en suite a complete refresh. In the living room, we renewed the plasterboard and the ceiling was re-plastered. We also gave our customer a clean and consistent profile around their ceiling by fitting new coving too. Our decorator then added the finishing touches to the ceiling, coving and walls, with a couple of coats of nice fresh paint.
We only use a reputable independent UKAS accredited lab to analyse the samples. They didn't find Asbestos in any of the samples on either claim.
We undertake all types of ceiling repairs and leave you with a high quality, professional finish.

As insurance repair contractors, we're here to help with a lot more than just Artex ceiling repairs. IC Assist's team of plasterers and decorators repair all types of ceiling damage. Our contractors can transform water stains, holes or ceiling collapses. So, if you need help with repairs to your plasterboard, Artex, plaster, or lath and plaster ceiling, just give us a call. We've been repairing water damaged ceilings since 2011 and have many satisfied customers.
Call 0800 4337 290 now to book a FREE Artex ceiling damage assessment.