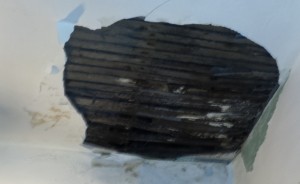 If you're claiming for a ceiling repair after a leak or escape of water, just give IC Assist a call. Our team deal with this kind of damage all the time and are here to help. As insurance specialists, we can repair any type of ceiling damage. As well as any damage to walls, flooring, kitchens & bathrooms etc.
The most common claims we manage are due to plumbing failures damaging ceiling(s) below. However, we also manage a lot of claims involving ceiling collapses caused by a pipe bursting or water tank overflowing.
In these circumstances, water often tracks to multiple rooms. These types of escape of water claims can therefore involve restoring a bathroom, kitchen, bedroom, lounge, or hall/stairs/landing. If this has happened to you – don't worry! Our professional contractors will reinstate all rooms, whilst causing minimum disruption to anyone in the household.
Our contractors can repair all types of ceiling damage:
Cracked ceilings –

From hairline cracks after an escape of water from above. To large cracks appearing after accidentally putting your foot through the ceiling while in the loft!

Water stains –

When the plasterboard/drywall is intact and there's no mould growth, our decorators will stain block and paint it.

Plasterboard repairs –

If there's mould from water leaking onto your ceiling, we'll cut out and renew the affected area.

Re-plastering and replacing plasterboard ceilings –

Where a section has been cut out to find or fix a leak, or ceiling has collapsed, our plasterer will re-board and skim it.

Lath and plaster ceiling collapse –

Removing laths and mortar is a very dusty and messy job. But don't worry, our contractors will protect your home and belongings during the removal process. They will even clean up afterwards too!

Artex/textured coatings –

Care must be taken with Artex repairs, as Asbestos was used in these products until 1999. So, if your property was built during that period, we'll sample and test the Artex before disturbing it.
Water stained ceilings often requires more than just stain blocking and painting.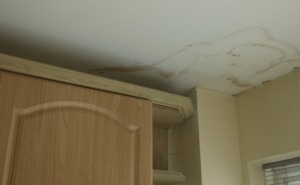 Even if you were lucky enough to notice a leak and fix it promptly, it can still create a water spot or stain on the ceiling. Water stains come in all shapes and sizes, depending on where the water tracks and pools. You may have large track lines across your ceiling. (This happens when the water travels along the edges/joins of the individual pieces of plasterboard.) Or you may also have random rusty or brown marks in various places too.
Spots, patches or cracks are other common signs of a water damaged ceiling. They're usually caused by plumbing issues from the bathroom or flat above. Although a stained ceiling may appear minor, it's important to get a professional assessment. With 10 years experience in water damage restoration, we know stain blocking a water stain isn't always sufficient.
Please be aware that most general contractors try to fix water stains by covering it with stain block and paint. Although this can hide the marks on the surface, it doesn't deal with any issues that may be present on the underside of your ceiling. Therefore, this type of repair isn't always the correct solution. This is why it's important to choose a ceiling repair specialist like IC Assist.
As pipes can be unsightly, most people hide or cover them up with boxing. This is one reason why the majority of customers only notice a plumbing issue once it's too late and marks appear on walls and ceilings. At this stage, materials between the bathroom and room below can be affected too. Such as, the bathroom sub floor (floorboards/chipboard/plywood) and floor/ceiling joists. Water can also soak into insulation and the underside of the ceiling plasterboard. In some instances, it can also run down into the cavity of the wall. So it's important you get someone like IC Assist to assess these areas, to prevent problems arising in future.
Our surveyor will take moisture readings to determine the full extent of the damage. This will establish what restoration work is necessary and if we will need to install drying equipment. The picture above shows a job we were managing where a leaking toilet stained the kitchen ceiling below. The water damage looks minimal right? Wrong! Take a look at the rotten floor boards underneath the toilet. Please note – this was only visible once we lifted the vinyl flooring in the bathroom. More importantly, the vinyl didn't show any signs of damage on the surface. (It was our moisture meter that identified that the floor boards were wet.)
A cracked ceiling can quickly turn into a bulging or sagging ceiling, which can be dangerous!
If you don't deal with a leak promptly, small cracks can quickly become a big problem. As when water can't escape, it accumulates and pools. This ultimately results in a bulging or sagging ceiling. Unfortunately, most people only realise there's a problem when water starts dripping through their ceiling.
But by this stage, the damage is already done! So, if you've got a bubble in your ceiling from a water leak, just give us a call. As if water continues to collect, it can be dangerous and your ceiling could collapse. To prevent it caving under the pressure, we'll support the bulge and pierce a hole into it. This will release the pressure and allow the water to escape.
Ceiling collapses are messy, so let us deal with the aftermath!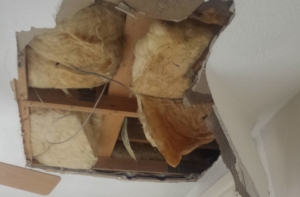 When a pipe bursts or a bath/sink/water tank overflows, plasterboard can easily break under the pressure causing it to collapse. In most cases, it gives way when you're least expecting it. (As was the case for one of our customers, when her bedroom ceiling came crashing down while she was sleeping!) Thankfully no one was injured. However the escape of water from her tank did damage her bedroom, hallway and living room. So, we got our team in to re-decorate all 3 rooms.
If water has poured through your ceiling and you need assistance with your ceiling repair claim, just give IC Assist a call. We know how unsightly this type of ceiling damage can be and will work hard to get your home back to normal quickly.
Patch repairs to ceiling plasterboard after tracing and fixing a leak.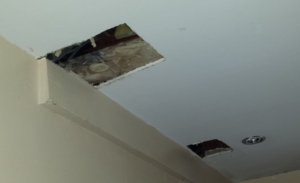 Patch repairs are usually necessary in two instances. Either, when a hole is cut to release pressure and prevent the ceiling collapsing from the weight of the water accumulating. Or alternatively, when a plumber cuts out sections of plasterboard to find out exactly where the problem is coming from. Cutting into the ceiling gives them easy access to the pipes, allowing them to fix the leak quickly.
This picture was taken on a claim we were managing involving the repair of a bathroom floor and kitchen ceiling. IC Assist were called in after an emergency plumber cut a couple of holes to locate and stop a leak from the bathroom. Minor damage like this is simple to repair. Our plasterer simply cut the drywall back to the nearest joist, replaced it and then re-skimmed the entire ceiling. Our decorators then completed the claim buy giving the kitchen ceiling and walls several coats of Dulux paint.
Get a professional assessment of your ceiling damage and any other affected areas.
Most home owners aren't property repair experts. So understandably, they don't know exactly what work is involved in repairing the damage to their property. As a result, they rely on the contractor to have the knowledge to assess the water damage. However, a plasterer or decorator for example, won't deal with any hidden water damage to joists, floorboards or insulation.
If you don't know how to fix a water damage to your ceiling, just relax and leave everything to us. We have knowledge, experience and skills to assess any type of damage. As part of our FREE claims management service, our surveyor will document the affected areas. Firstly, by taking pictures and measurements of the damaged room(s) and then taking moisture readings. We use a Protimeter, which is non destructive method of checking moisture levels in building materials. This equipment is an effective method of locating moisture and potential damage beneath the surface that isn't yet visible. It also helps identify what materials our ceiling repair contractors will strip out and whether drying equipment is necessary.
We check moisture levels on stained surfaces, as mould may be growing on the underside of the plasterboard.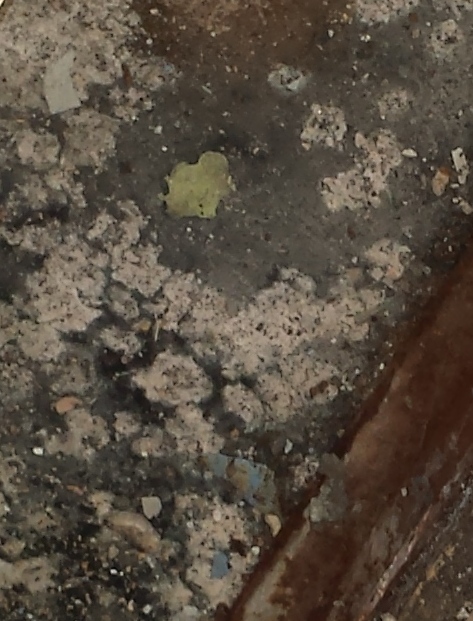 In order to choose the best restoration method, we always take moisture readings. As in our experience, most water damaged plasterboard requires replacement. Mould growth is very common with water damaged ceilings. In fact, when removing damaged bathroom floors, we often find mould on the underside of the plasterboard ceiling below (see picture).
It's really important we identify and deal with it quickly to prevent it spreading and causing major problems in future. (Problems your insurance company won't cover!) There are a number of ways to see how wet the plasterboard is and if mould is present. The simplest way is to remove the damaged section. This allows us to easily see what condition it's in.
On the other hand, if your bathroom floor is damaged, we can inspect the underside of the board when removing the damaged flooring. This is the preferred method as it allows us to check the condition of all timber in the vicinity of the leak. Alternatively, when there's no other way to inspect the full extent of the damage, we can arrange for a Borescope inspection. This is a cost your insurer should cover if your claim is valid.
IC Assist provide a stress free solution to your

claim for ceiling repairs.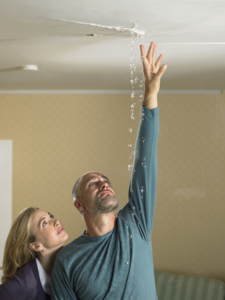 We get lots of calls from people who are stressed because they've got water leaking through their ceiling. They are often confused because they don't know exactly what to do. Firstly, they're unsure who to call to fix their ceiling damage and any other subsequent repairs required to their property. (Should they call a plasterer, decorator or builder?) Secondly, they don't know what they should ask contractors to quote for. That's where IC Assist can help.
With over a decade of experience in the insurance repair industry, IC Assist will provide all the assistance you need to make a successful claim. Firstly, we will carry out a thorough assessment of the damage and explain what reinstatement work is necessary. Then our Claims Manager will present your claim professionally to your insurer to ensure they approve it. (That's providing you have a valid claim and your policy covers you for the damage.)
We manage all aspects of your insurance claim on your behalf – at no cost to you or your insurer! (You only pay your policy excess, if you have one.) We take care of everything, saving you the time and hassle of dealing with your insurer, their Loss Adjuster and multiple contractors. There's also no need for you to contact multiple companies. As IC Assist provide a complete property reinstatement and drying service.
Do you need to ask several different companies to provide a ceiling repair quote?
It's likely that your insurance company has asked you to get a 'couple of estimates' for the damage to your ceiling. However, if you appoint IC Assist to manage your claim, multiple quotes aren't usually necessary. That's because, as we are professionals in the insurance industry, we make the Loss Adjuster's job simpler. Therefore, once your insurer validates your claim and agrees the scope of works, they simply compare our prices with their own set rates. If there is a variance, we'll negotiate with your insurer to agree a reasonable price. Should your insurer insist on another quote, we can obtain an additional one for you from an independent company.
You have a duty to act quickly and prevent unnecessary damage. Therefore, time is of the essence when you've got water potentially pooling in your ceiling. So please don't waste time ringing around trying to get multiple quotes, just give IC Assist a call. (As, the damage can get a lot worse, by the time you wait for several contractors to come out and come back with a price.)
Just because your insurer has told you to get a quote, doesn't mean they'll approve your claim.
Many people assume that their insurance company will approve their claim, because they've told them to get a couple of quotes. However, this is not always the case. So, how do you know if your insurer will cover the cost to repair your ceiling and any other subsequent damage? Don't worry, IC Assist will establish if you have a valid claim. How do we determine this? During our survey of your property, our Claims Manager will ask some questions about the events leading up to and the cause of the damage. As well as carefully checking your policy wording.
It's important to choose a ceiling specialist to avoid problems occurring in future.
A very distressed lady sought our advice when her ceiling fell down. Her insurance company were refusing to cover the cost of repairing it. They claimed it was a result of the plaster failing. In actual fact, several years ago, a pipe burst in the flat above and the insurers contractors didn't assess the damage properly. They thought that just painting it was sufficient. This is a perfect example of why choosing a company with the right knowledge and experience is vital. As most contractors just don't have the equipment or knowledge to restore water damage correctly.
Beware! Asbestos may be under your PLASTER ceiling.

As Artex coatings went out of fashion, many homeowners covered up their old ceilings with plaster. Therefore, you must be cautious – even when repairing a plaster ceiling. Why? As the Artex coating beneath the plaster finish could contain white Asbestos and it's likely to get disturbed while repairing the plastered ceiling.
Our surveyor took this photo on a claim we were managing for a collapsed plaster ceiling. After looking around the property, he suspected Artex could be underneath. (This was due to the age of the property and presence of Artex in other rooms.)
After taking a sample of the old textured coating to an independent lab for analysis, the tests confirmed Asbestos was present. Following this, the Loss Adjuster gave us authorisation to instruct our HSE Licensed contractors to safely remove the whole ceiling. An independent company then came in to do an air test, which confirmed that the property was safe to re-enter. Only then, could the reinstatement works begin.

Stippled Artex coatings can be mistaken for textured/wood chip wallpaper.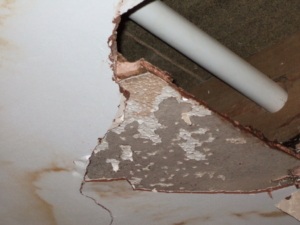 Another instance where we came across Asbestos underneath a water damage to a plaster ceiling, was on another claim involving a partially collapsed kitchen ceiling. This Loss Adjuster thought there was wallpaper beneath the plaster finish (see picture). However, our surveyor suspected it was an old stippled coating that could contain white Asbestos. So, we didn't take any risks. We took a sample and the lab results confirmed Asbestos was present!
Fortunately, this customer chose IC Assist to survey his property. (As if we weren't managing his claim, the Loss Adjuster wouldn't have tested it! As a consequence, Asbestos fibers could have been released during the ceiling removal, contaminating his kitchen!)
It can be difficult to distinguish a textured wallpaper (like wood chip) from a stippled Artex coating. As from a distance, they look very similar. Wood chip consists of two layers of paper with wood fiber in between. This makes it very tough and difficult to remove – especially if it's got several coats of paint.
What could indicate that Asbestos may be underneath your plaster ceiling?
Asbestos was widely used in coatings up until 1999 (when is was banned). But besides the age of the property and Artex being visible in other rooms, there are other things to look out for. So, how can you tell if your Artex has been plastered over? When a textured coating is skimmed over with the coving still in place, its profile is lost and it becomes wavy and uneven. Coving should have sharp consistent lines all around the perimeter of the ceiling line. Another place to check is underneath light fittings. Easing off a light fitting can also reveal old Artex that they didn't completely plaster over. You can see pictures showing examples of how you can try to determine if a textured coating is underneath your plaster ceiling on our Facebook page.
Ceiling repair claims in flats and apartment blocks.
Escape of water claims in flats can cost insurance companies tens of thousands of pounds to restore. This is because water can track down from one flat to the next, damaging several properties in the block! We find that the most common cause is a leaking soil stack or plastic pipe fittings failing. Over the years, the use of plastic push fit plumbing in apartments is rapidly increasing. Why? Well, because it's quicker, easier and cheaper to install. As a result, our office receives a lot of calls for assistance when a push fit pops off or fails.
We can provide assistance with all types of ceiling damage repairs in flats.
Other problems flat owners require assistance with are; pipes bursting, leaking washing machines and boilers bursting or exploding. We even had a call from a leaseholder who had water pouring through their light fitting, after someone accidentally dropped a bucket of water in the flat above. The water had spilled everywhere and run down damaging the walls and ceilings in the ground floor flat!
If water is dripping into your flat after a leak in the apartment above, just give us a call. We can provide assistance with any other damage to your property and can also manage your neighbour's claim too! We know that trying to get hold of your neighbour to progress your claim can be a difficult task. So why not let us deal with everything on your behalf? Our free claims management service removes all the hassle from you.
Insulation and joists can also get damp or saturated, so don't overlook them.
Water can also track down your joists before pooling on the plasterboard/drywall and insulation. So depending on how long it's been dripping, mould may be growing in your ceiling void. Given the right conditions, fungus and spores can spread rapidly on the underside of the ceiling plasterboard, insulation and joists.
Once we remove the drywall, our surveyor will check the condition of the insulation and timber. Should we uncover damage to your joists, don't worry we provide a joist repair service too. In the majority of cases, simply drying and treating the timber is sufficient. However, if your joists are saturated/soft/weak, our carpenter will renew them.
Light fittings, spot lights, extractor fans and other electrical items can also be affected and should be tested.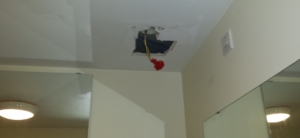 It's common to see water dripping and leaking through light fittings after an overhead leak. This is because they're great outlets for the water to escape. Water takes the path of least resistance. So this means light fittings, spot lights, extractor fans, sockets and switches can also be damaged too.
We took this picture during our assessment of a damaged bathroom in a ground floor flat. The extractor fan, ceiling and walls were all damaged by a leak from the apartment upstairs.
If water tracks down the walls and reaches the floor, it can also cause problems with electrical appliances. This includes underfloor heating systems, dishwashers, washing machines and tumble dryers etc.
For your safety, if your electrics or appliances have been affected, it's best not to use them until they've been tested. We can arrange for our qualified electrician to check any electrics in the vicinity of the leak. Should he identify any issues or if anything needs replacing, we'll ensure your insurer covers the cost to rectify it.
Accidental damage to ceilings – Not sure if your insurer will cover your ceiling repairs?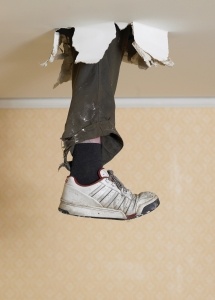 No one expects it to happen to them. But unfortunately accidents do happen, no matter how careful you try to be! For example, your foot can accidentally slip through your bedroom ceiling just changing a light bulb in the loft! But will your insurer pay to repair that great big hole or crack in your ceiling?
Well, it can come as quite a surprise that accidental damage is not standard on all polices. If your policy includes accidental damage, your insurer will cover the cost of repairing your property. (That is, providing your insurer has no doubt that the damage occurred suddenly/unexpectedly and wasn't deliberate.) But don't worry, we'll check your policy wording to see if they should cover the repair costs.
Any other damage to your property? We can take care of any resulting damage too!
Thanks to our team of professional contractors, we can help with more than just a water damage ceiling repair. So, if your walls or floors have been also been damaged, we'll take care of that too. As IC Assist are insurance reinstatement specialists, we offer a complete claims management and property repair service. This includes kitchen and bathroom renovations and entire refurbishments too. IC Assist have many happy customers and we're very proud of the feedback we've received. To see more examples of the different types of ceiling damage claims we manage, have a browse through our Facebook albums. While you're there, you can also see our reviews and over 35 albums of before, during and after pictures.
Call 0800 4337 290 now to book a FREE ceiling damage assessment.