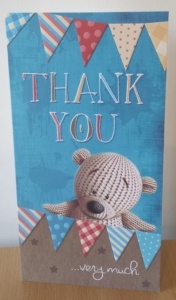 We would like to share a thank you card we received for managing water damage repairs to a ground floor flat. The message said:
"Thank you for all your hard work. We are so pleased with the flat".
Sue got in touch as she needed our help with substantial water damage to her flat. She had a leak from her bath that went un-detected for a long period of time.
As a result, the water tracked throughout their entire flat, damaging the floors and walls in every room!
Due to the extensive drying and repairs required, the couple had to move out for the duration of the works.
Water damage repairs of this nature require a lot of preparation and drying.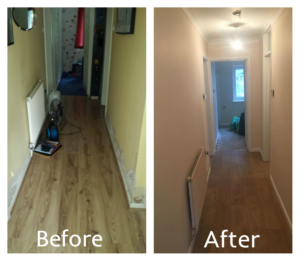 Before we could strip out the water damaged building materials, we took all furniture and contents out of the property. This allowed us to remove all wall and floor coverings including all plaster contaminated with salts.
We then sanitised all affected areas and installed drying equipment. Due to the amount of water that had leaked throughout the property, it took over one month to completely dry.
Before re-plastering the walls, we applied a salt neutraliser to prevent the salts from re-appearing. We then fitted new skirting and architrave throughout, before re-decorating every room. We also re-tiled the kitchen and gave the bathroom a complete re-fit too. As the flat was on the ground floor, we applied a new screed to level the floor. Then we laid a damp proof membrane, before fitting the new laminate flooring.
You can see more pictures of the damage and the repairs we completed water damage property refurbishment.
The couple were absolutely delighted with both our claims management service and the refurbishment of their flat. Please take a look at their feedback on MyBuilder below.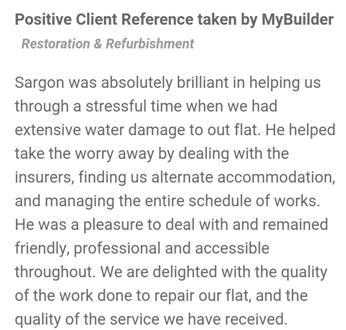 If you're making a claim and need help with the repairs, just let IC Assist take care of everything.
Managing a water damage claim of this size and organising repairs would usually be a daunting and stressful task. However, this was not the case for Sue and Simon, as our FREE claims management service took care of everything. We dealt with all aspects of their claim from dealing with the Loss adjuster to arranging and overseeing all the drying and restoration.
If you have a claim that you would like us to help with, just give us a call on
0800 4337 290