As a small family run company, we really do care about our customers. We strive to be the best in our field to ensure our customers get a professional service at all times. Over the years we have built up a reputation that we are very proud of and have lots of satisfied customers that would happily recommend our service to friends and family.
To see what our customers have to say about our service, please take a look at our Facebook reviews below. You can also see handwritten testimonials and customer survey forms from our customers.
Facebook Reviews.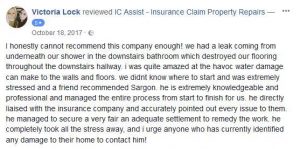 Please feel free to take a look at these reviews on Facebook. We also have some great feedback from other customers that we have helped on Google and MyBuilder. Please take a look at these too.