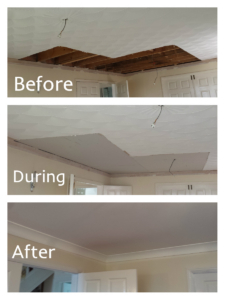 Artex ceiling repairs should be treated with caution as they may contain asbestos!
Water damage to Artex ceilings is very common, usually due to a burst or leaking pipe above. However, if you're claiming on your insurance for your repairs, it's important to choose the right contractor to ensure your repairs are treated with care. This is because, white asbestos (Chrysotile) was widely used to strengthen Artex textured coatings, until it was banned in 1999. As a result, Asbestos is now being found in the properties decorated with Artex during this time. Unfortunately, there are a lot of home owners and contractors who are unaware of this and carry out Artex ceiling repairs with out testing it first! Please note that textured coatings only pose a risk when you damage or disturb them. So if your Artex needs repairing – don't panic we're here to help!
We never start any repairs to damaged Artex ceilings until we test it for Asbestos.

Over the years, we've managed many insurance claims involving Artex ceiling repairs. Before starting any repairs, we always test the Artex first. Not surprisingly, a large number of the samples we test contain Chrysotile. That's why it's important to choose a professional company like IC Assist to assess and repair the damage to your Artex ceiling.
We don't install any air movers to aid property drying until it is safe to do so.
Industrial fans or air movers shouldn't be installed as part of the drying process until it's confirmed there is no asbestos. This prevents spores being blow throughout the property, if for example the ceiling unexpectedly collapses whilst waiting for the test results! As can be seen in an article from the Guardian. It not only shows the hidden health hazards of asbestos. But is also shows the problems a homeowner was facing when his Artex ceiling collapsed due to a burst pipe whilst air movers were running in his property.
We can repair all types of Artex ceiling damage.
Our team can renew all types of Artex/textured ceilings from simple patterns such as stipple, peel or broken leather to swirl, circle, shell and circle and more.
We can help no matter what damage the water has caused including: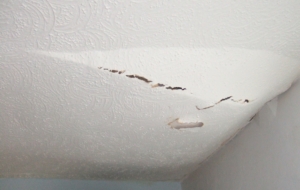 ✓ Cracks
✓ Water stains
✓ Bubbles or holes
✓ Collapsed Artex ceilings
✓ Bulging, sagging or bowing plasterboard
Some customers prefer to replace their damaged textured ceiling with a flat, modern plaster finish.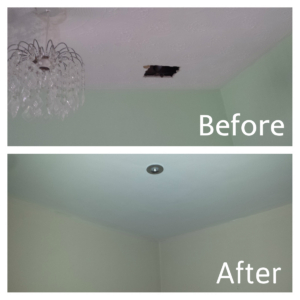 As textured ceilings can seem quite dated, most of our customers take this opportunity to update their damaged ceiling to a modern, smooth plastered finish. So if you would like to do this, then that it not a problem.
To see an example of  this type of claim, please see the picture a the beginning of the page. This was taken during the re-decoration of a living room following a leak from the en-suite bathroom above. We did not start any work until a sample was taken and tested. In this instance, the laboratory did not find any asbestos so we cut out the water damaged plasterboard and coving so that we could renew it. As the customer didn't want the ceiling re-Artexed, we firstly scraped back the high points of the remaining textured coating. Then we applied a two coat plaster skim, before re-decorating the entire room.
The other before and after pictures shown are another example of a damaged Artex ceiling replacement. On this claim, the Artex ceiling was damaged as a result of an access hole being cut to locate and fix the leaking pipe.This customer used this opportunity to completely modernise her lounge by having spot lights installed and complemented this with a nice flat plastered ceiling instead.
Beware! Asbestos can be under plastered or wallpapered ceilings.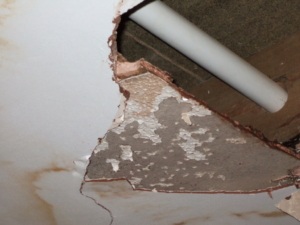 A few years ago, we managed a property claim involving a water damaged plastered ceiling. The Loss Adjuster thought that there was wallpaper beneath the plastered finish (please see picture). However, we suspected it could contain white Asbestos and requested authorisation to test the old ceiling (underneath the damaged plastered ceiling). Thankfully, she authorised us to test it, as it did contain Asbestos!
Associated costs with the removal of an Artex ceiling that contains asbestos.
When we find Chrysotile in an Artex ceiling, there are other costs to consider other than just removing the Artex. However, if you have a valid claim, Insurers will usually cover any associated costs. These costs typically include:
✓ Safely remove and dispose of the entire ceiling (including plasterboard)
✓ Remove and dispose of all coving – if you have it (as this needed to be removed in order to renew the ceiling)
✓ Conduct re-assurance air test
✓ Re-board the ceiling
✓ Re-plaster or Artex the ceiling
✓ Renew the coving
✓ Paint the ceiling, coving and walls
We also recently managed a claim with a plastered ceiling which looked perfectly fine on the surface. However, once our surveyor cut into the damaged ceiling, he could see an old Artex ceiling hiding beneath. Again, we tested the area and it did contain asbestos and the insurer paid to safely remove the whole ceiling.
A complete solution to your Artex ceiling repairs – including asbestos sampling, testing and removal.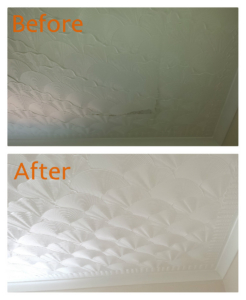 IC Assist can help with more than just Artex repairs and re-decoration. We also provide a professional sampling, testing and removal service. So, if we identify building material that may potential contain asbestos, we'll advise your insurer.
As soon as your insurer gives us authorisation, we will wet a section of the Artex and carefully scrape off a sample. We will then seal the section to prevent any loose Artex falling down and take it to an independent laboratory for testing. If they find Chrysotile in the sample, our accredited contractors will safely remove it and thoroughly clean the room.
In order to ensure that the room is safe for re-occupation, IC Assist will also instruct an independent firm to carry out an air test. This will ensure that the air is clean and safe in accordance with the Health and Safety Executive guidelines.
The before and after picture shown were taken on an escape of water claim we managed. They show a water damaged landing ceiling following a leak from the loft. It tested positive for asbestos so our licensed contractors safely removed and disposed of the entire ceiling.
Once the air test was complete and it was safe for us to re-enter the area, we were able to fit new plasterboard, loft insulation and coving, before applying a shell and comb Artex pattern. Once dry, we then re-decorated the hall stairs and landing.
Asbestos removal can be costly, however it is important to remove it safely for the benefit of you, your family and the contractors.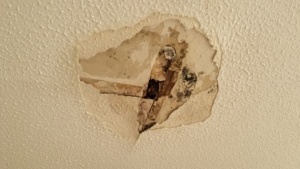 Many people try to save money by not testing their damaged Artex. Doing this however, potentially puts everyone at risk. So, before you carry out any repairs to your damaged Artex ceiling, please ensure you test it first. As you could put everyone in the property at risk!
Please also note that there are a lot of contractors who do not know how to identify asbestos. So be aware that they may carry out repairs and disturb it without realising it. That's why it's important to choose a company like IC Assist. Our surveyor knows how to identify asbestos and will let your know if he there are any building materials that could contain asbestos.
We can help with all types of ceiling repairs – including plaster, plasterboard and lath and plaster.
As ceiling repair contractors, we can help with more than just Artex ceiling repairs. We can repair all types of ceiling damage and can fix anything from minor water stains or holes to collapsed ceilings. So if water has damaged your plasterboard, plaster or lath and plaster ceiling just leave all the repairs to us!
Call
0800 4337 290
now to book your FREE no-obligation survey